Floodplain Management
Council has a robust and effective process for managing flooding.
Council uses Floodplain Risk Management Studies and Plans to outline flood mitigation measures and to reduce the risk of flooding. Under the NSW Government's Flood Prone Land Policy, Council is required to manage flooding issues and put plans into place to safeguard flood-prone areas.
The Floodplain Development Manual (2005) guides Council in the development and implementation of local Floodplain Risk Management Plans to produce robust and effective floodplain risk management outcomes.
Flooding in Bayside Council 
Stormwater is generally managed by Council's stormwater drainage system of pits and pipes. However the capacity of the drainage system is sometimes exceeded, causing flooding. Flooding is defined in several different ways:
Overland flooding: Intense rainfall can create excess runoff which flows overland once the capacity of the drainage system is exceeded.

Tidal/oceanic flooding: Due to their low elevation, some areas of Bayside are susceptible to inundation caused by very high astronomical tides (i.e. king tides) or elevated oceanic level events (e.g. storm surge). The elevated tide and ocean levels cause water to back up existing trunk drainage pipes and flood low lying areas in the catchment.

Mainstream flooding: Intense rainfall can overflow the natural banks a creek, lake or river and flood areas adjacent to the waterways.

Major flooding can be caused when mainstream flooding, overland flooding and tidal/oceanic inundation events coincide.
Managing Flooding
Council develops and implements Floodplain Risk Management Plans which provide a range of measures to reduce the impact of flooding. This work is guided by the Floodplain Development Manual (2005). Creating a Floodplain Risk Management Plan involves a number of stages.
The objective of the Flood Study is to identify the nature and extent of flooding within a catchment. Being aware of the flooding potential in a catchment and identified  defined reposnses, reduces the risk to life and property during flood events.
The objective of Floodplain Risk Management Plans is to identify the existing flood environment and recommend specific measures to manage the impact of flooding. Flood behaviour, evacuation issues and site access are all taken into consideration.
During the implementation phase, Council progressively prepares Flood Studies, Floodplain Risk Management Studies and Plans for each catchment.
Following planning, actions are put in place. Key actions include:
Setting planning rules to reduce the impact of flooding from and on new developments

Building, upgrading and maintaining stormwater structures including channels, detention basins and debris control structures to reduce the risk of blockage and floods.

Purchasing eligible properties that have a high flood risk under a voluntary purchase scheme.

Providing flood information to the community so informed decisions about buying or developing land can be made.

Maintaining waterways managed by Council and encouraging other land owners to maintain their waterways.

Planning how to respond to and recover from floods.
Community Consultation
Community consultation is an integral component of every stage of the Floodplain Risk Management Plan process. At key stages, residents are invited to provide feedback about flooding issues and potential flood management measures. Our Floodplain Risk Management Committee also includes community representation. Learn more about the Floodplain Risk Management Committee.
Catchments
The Bayside Council area has 8 main catchments, and 2 minor catchments.
Bardwell Creek and Wolli Creek Catchment: Turrella, Bardwell Valley and Bardwell Park, Bexley North, Kingsgrove
Birds Gully and Bunnerong Road Catchment: Daceyville, Eastgardens, Hillsdale
Bonnie Doon Catchment: Arncliffe, Wolli Creek, Bonar Street
Botany Bay and Foreshore Beach Catchment: Botany and Port Botany
Mascot, Rosebery and Eastlakes Catchment: Mascot, Rosebery and Eastlakes. The study also includes the Botany Wetlands catchment.
Sans Souci  Catchment: Ramsgate, San Souci, Monterey, Kogarah (part)
Spring Street, Muddy Creek and Scarborough Ponds Catchments: Banksia, Rockdale, Carlton, Bexley, Kogarah (part), Brighton Le Sands, Kyeemagh
Springvale drain and Floodvale drain Catchment: Banksmeadow and Pagewood (part)
Minor catchments with minimal housing
Botany Bay Catchment: Coastal strip

impacted by

storm surges

and ocean dominant flooding

.

Botany Wetlands Catchment: 

Flood modelling has been completed for the Mascot, Rosebery and Eastlakes Catchments.
To find out more about the catchments and latest actions, please click on the links below.
Our Current Work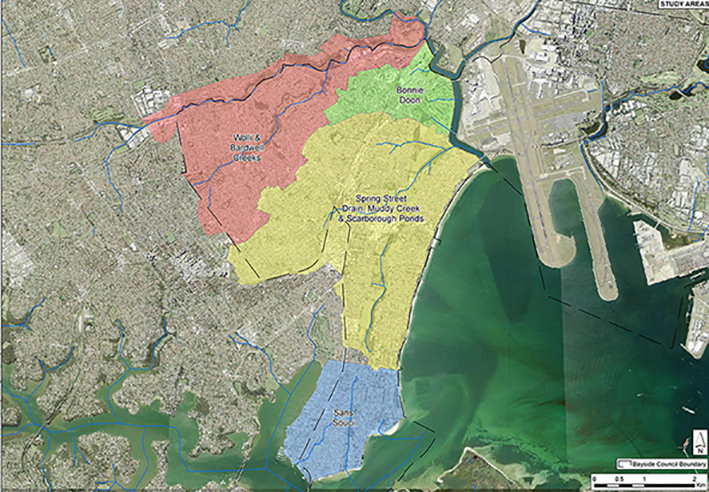 Council is undertaking two flood studies: 
Bayside West Floodplain Risk Management Study and Plan. Council is reviewing the existing Floodplain Risk Management Studies and Plans for four catchment areas to create one consolidated plan.The four catchments are Bardwell Creek and Wolli Creek, Bonnie Doon, Spring Street, Muddy Creek and Scarborough Ponds and Sans Souci. WMAwater have been engaged to undertake the study. They will develop potential flood mitigation measures to reduce the risk of flooding.
Feasibility Study and Concept Design of Drainage Network Upgrade in the Mascot Catchment. This study aims to reduce flood risk by increasing the capacity of the stormwater drainage pits and pipes. WMAwater is currently undertaking this study.
Once these studies are drafted, they will be exhibited for community feedback. Alternatively you can contact Council at flooding@bayside.nsw.gov.au with your feedback on reducing flooding risk in these areas.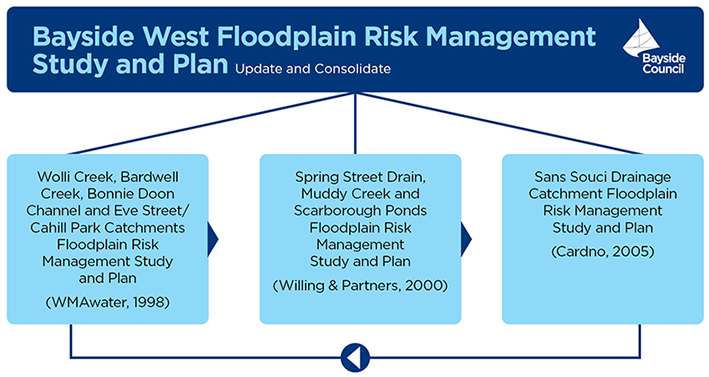 Image