Council rolls out 'Watch Your Butt' Litter Campaign - 18 March 2019
This morning Council staff began implementing signage along the beachfront that informs everyone that littering can cost the offender from $250, even for something as little as a cigarette butt. The 'Watch Your Butt' campaign will be rolled out throughout main hubs and high pedestrian areas over the next few months.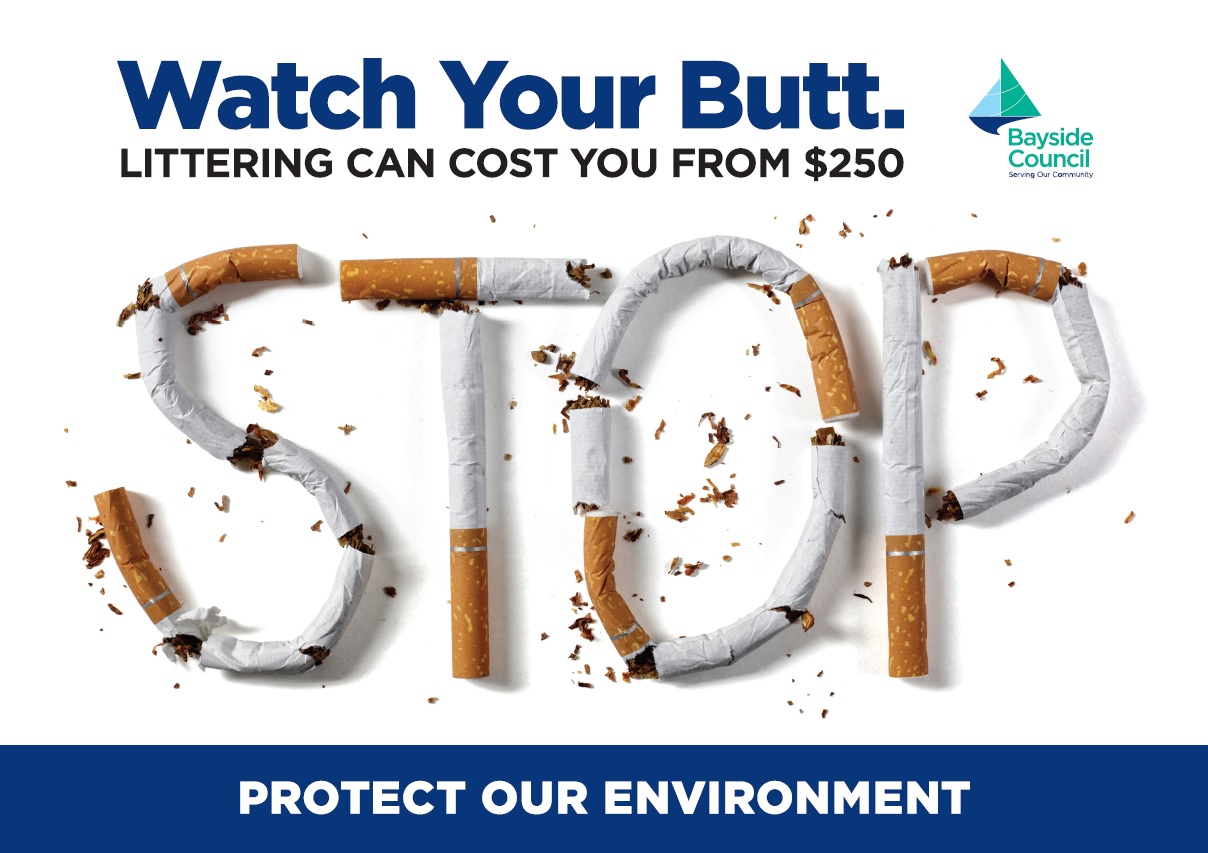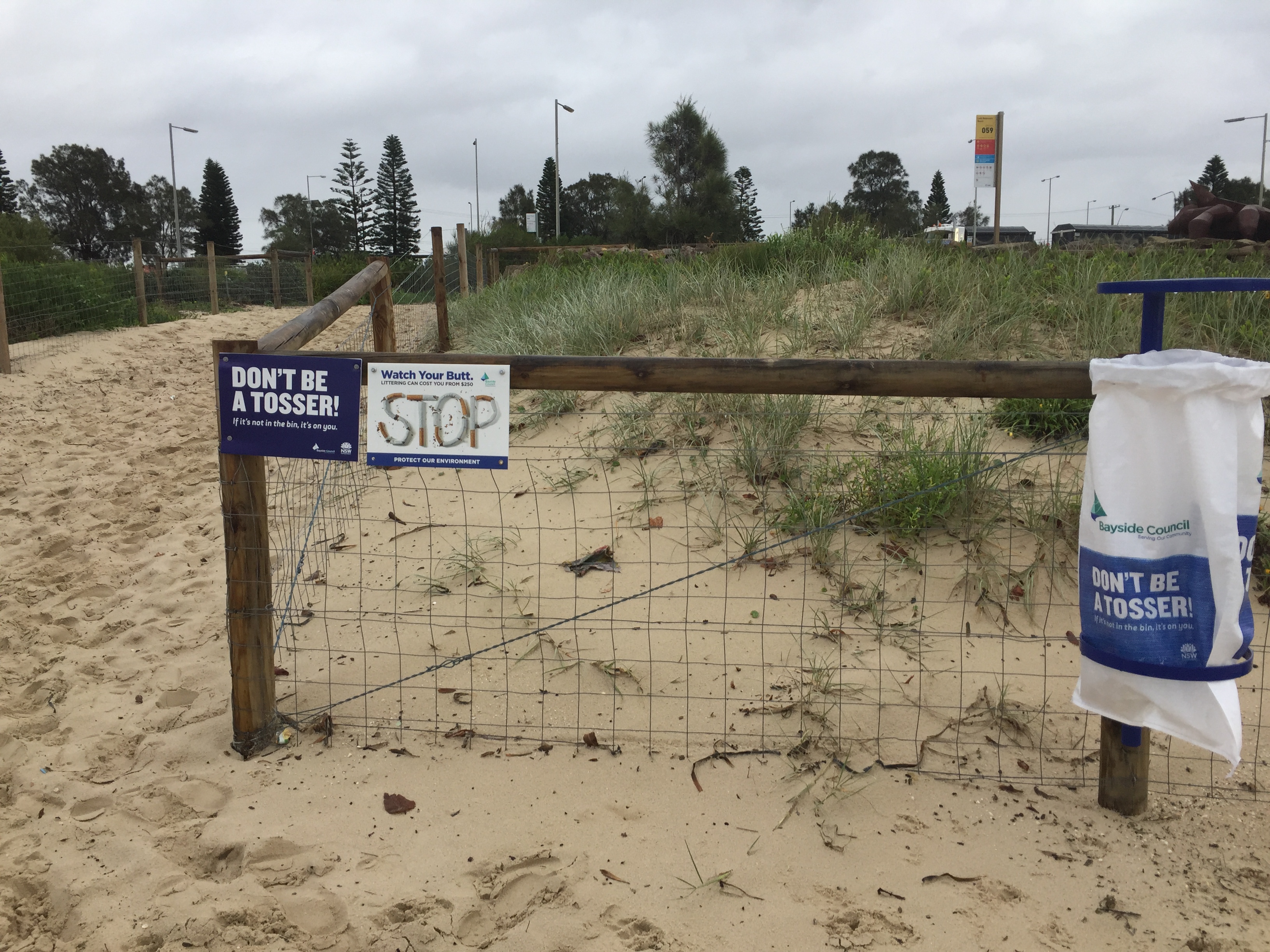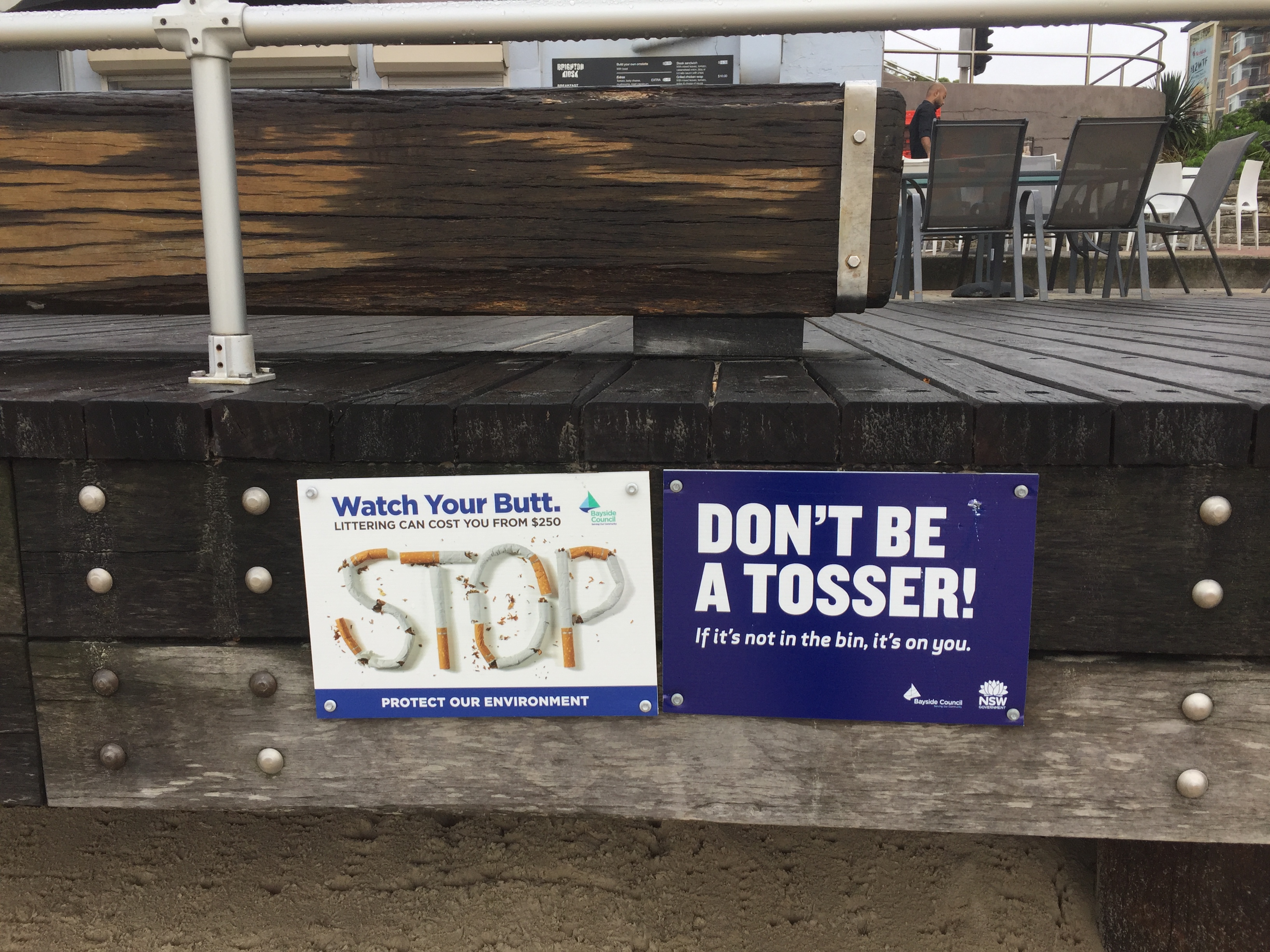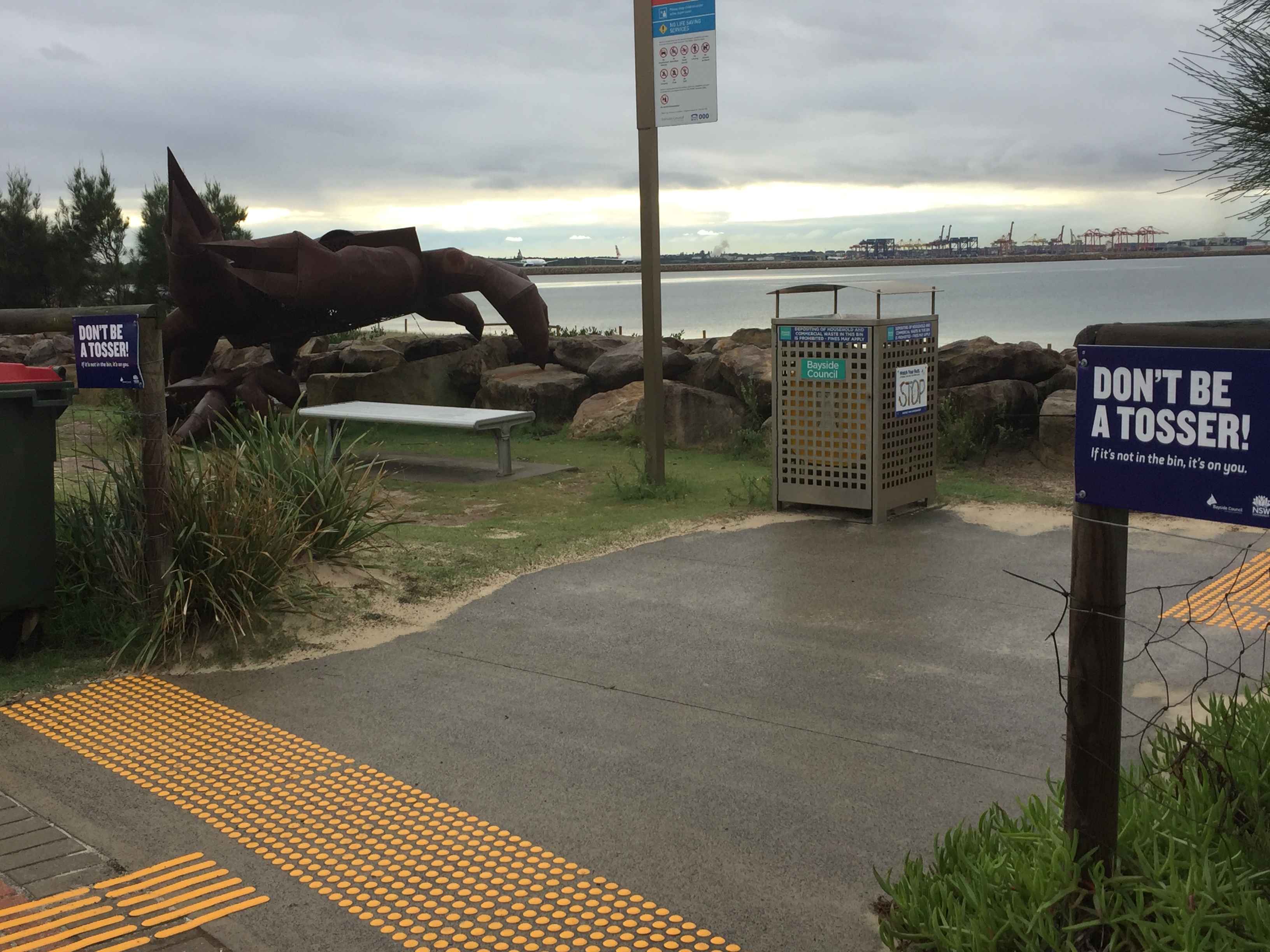 Botany Depot Community Recycling Drop Off Event - 16 March 2019
Thank you to all the residents that participated in spite of the rainy weather. Council collected the following items that will be collected or sent to specialist recyclers and/or re-use organisations.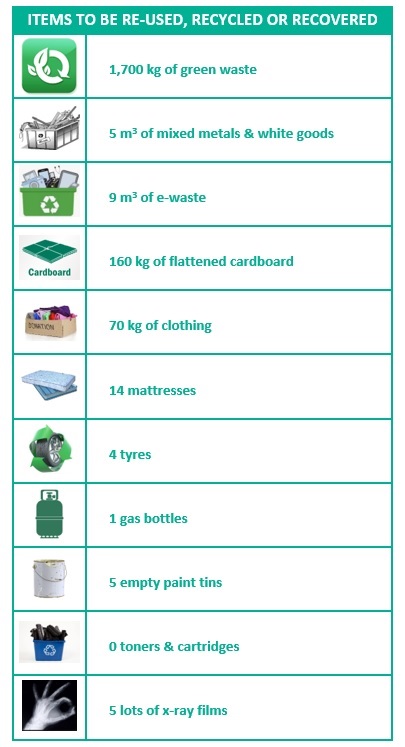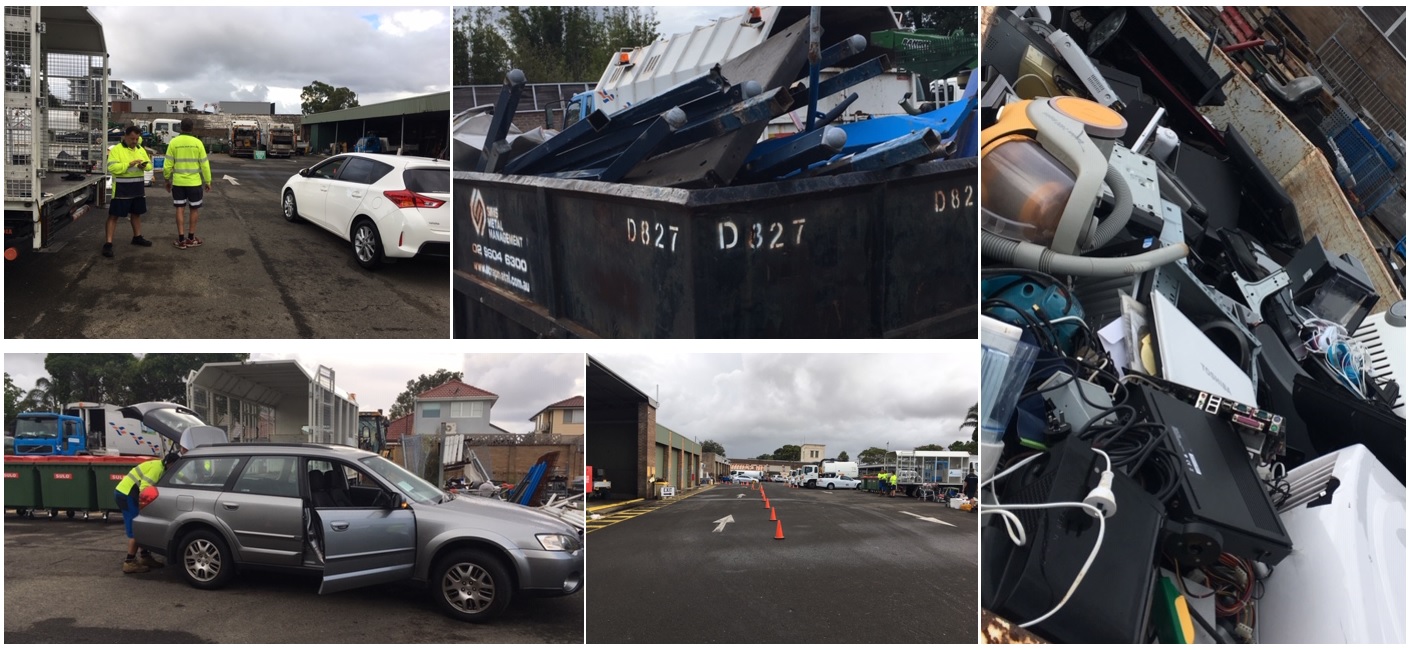 Mascot Train Station Upgrade - 9 March 2019
Bayside Council is pleased to advise that an upgrade of all community public place waste bins has been rolled out for the Mascot Station Precinct. This program includes the installation of larger custom made stainless steel bin enclosures and an increase in bin capacity of over 2,500L to the entire precinct. This will assist with bin accessibility, bin overflow issues, less heavy vehicle collections and a cleaner City.
This initiative is part of a Council wide public assets and service improvement program which included an upgrade and capacity increase of community public place waste bins on Botany Road, Mascot and Gardeners Road, Rosebery in 2018.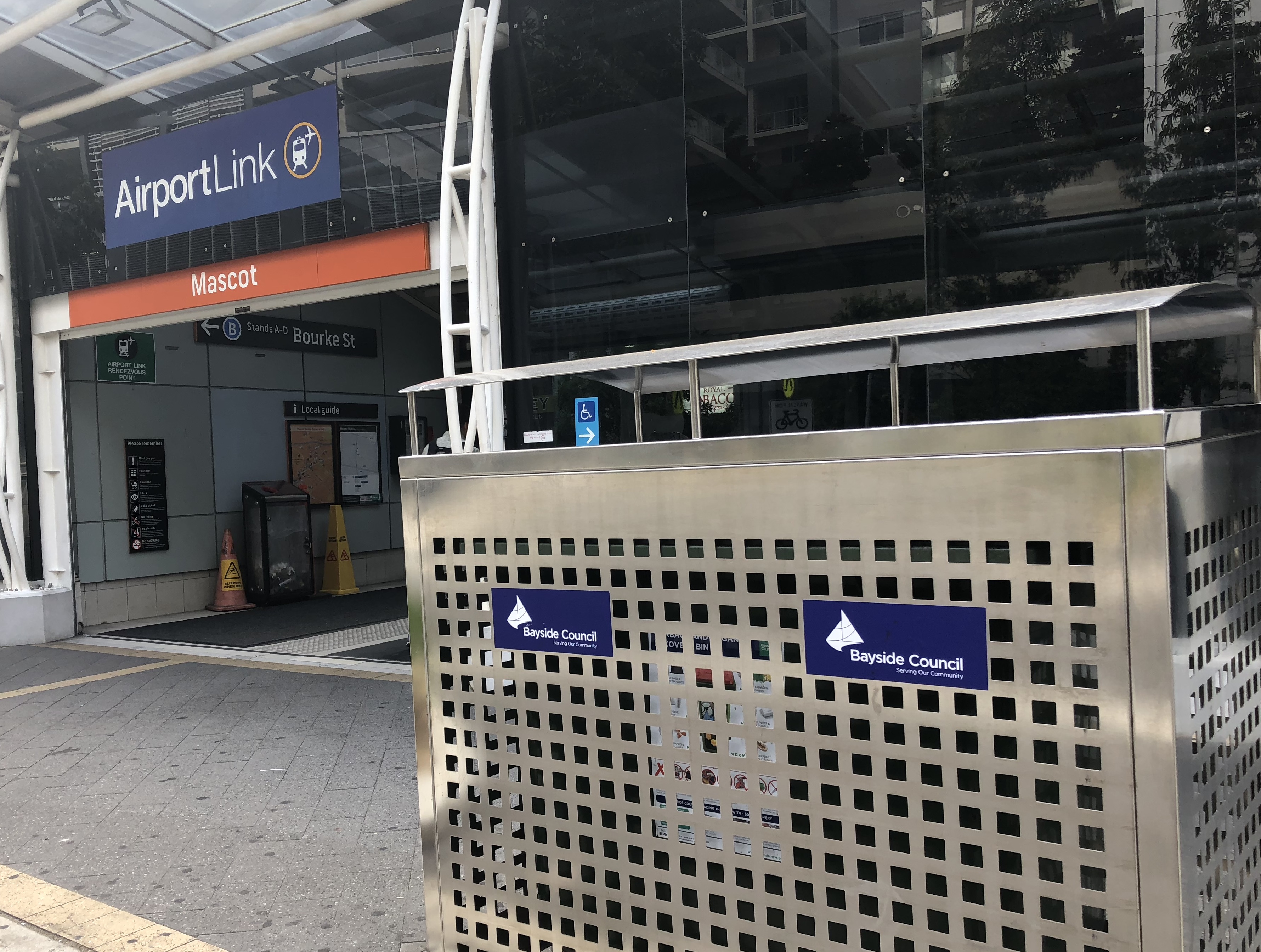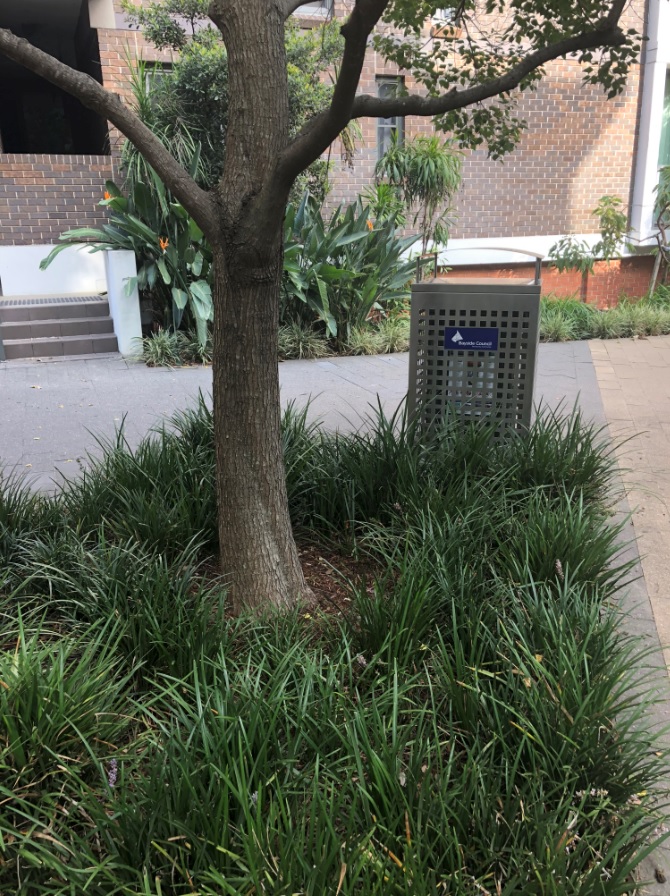 Clean Up Australia Day - 3 March 2019
Bayside Council would like to thank all the wonderful volunteers that assisted with Clean Up Australia Day. Volunteers and Council's Waste & Cleansing Services staff collected approximately 3,000 kg of waste and litter.
This initiative coincides with the launch of a major Council litter program that includes the installation of new beach bins, signage and education. Bayside Council has custom designed bins, bags and signage to encourage all to do the right thing and 'Don't be a Tosser'.
Council arranged a BBQ lunch using its innovative and interactive education solar powered trailer to thank all participants.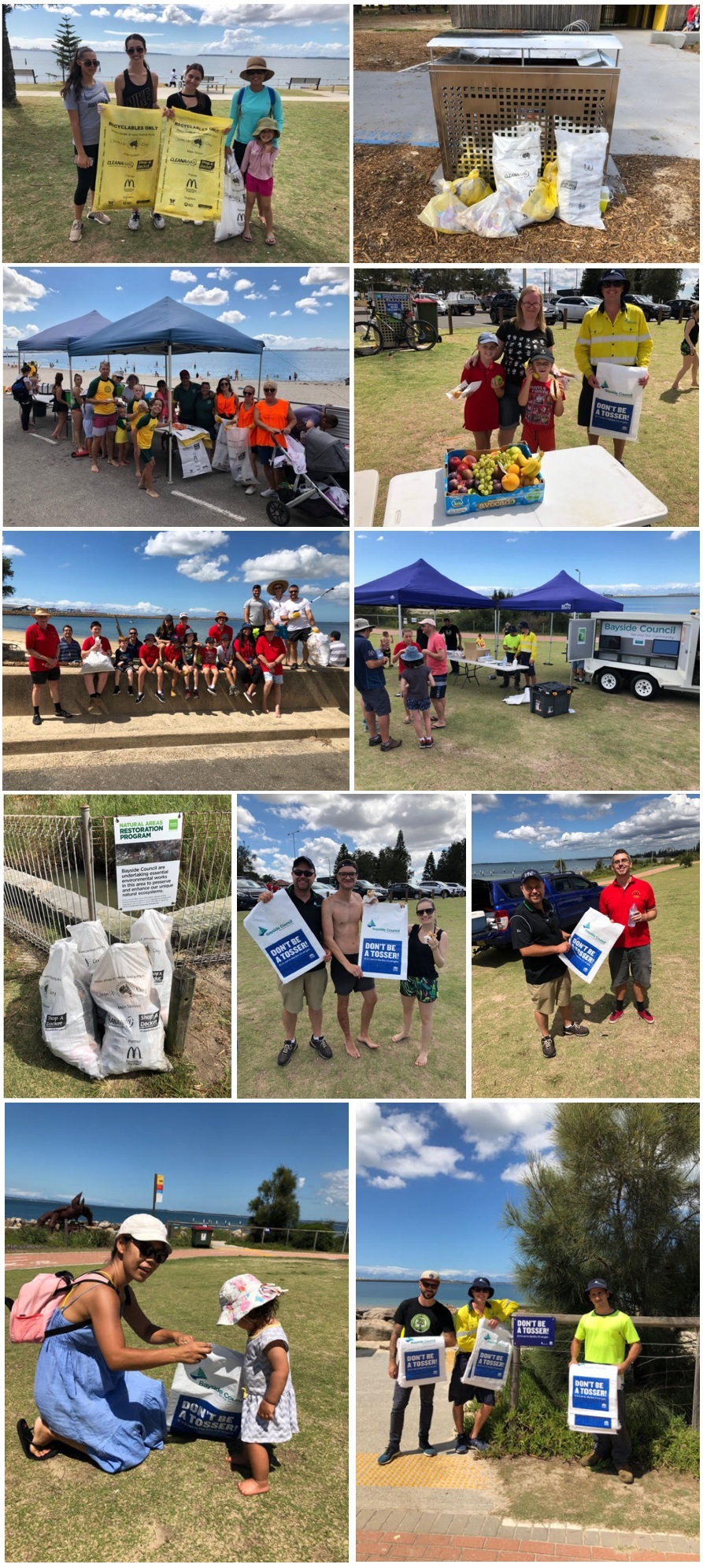 Bexley Depot Community Recycling Drop Off Event - 2 March 2019
Council's Waste & Cleansing Services would like to thank all residents that participated in the Community Recycling Drop Off Event at Bexley Depot on Saturday 2 March 2019. Residents managed to bring in the following items to be recycled: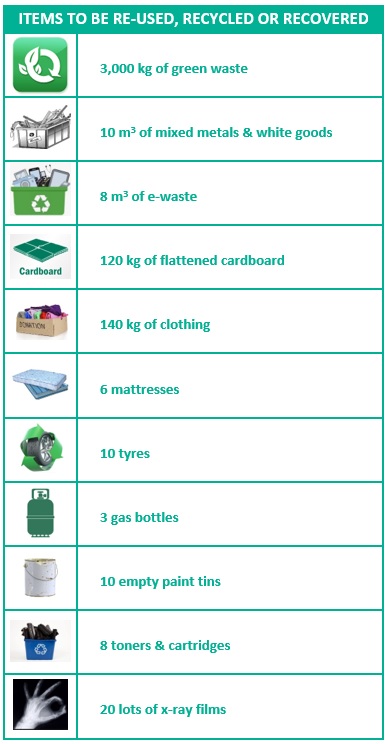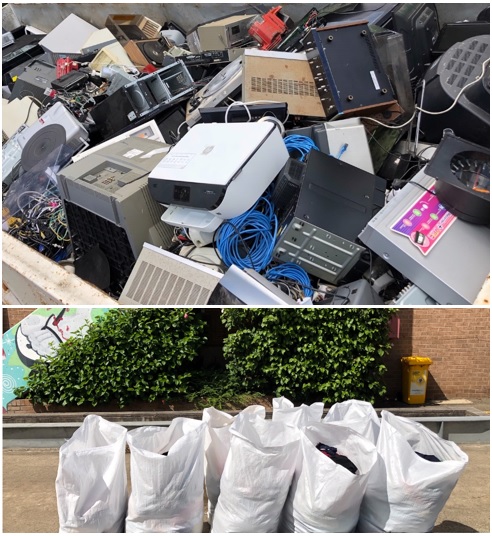 Beach Bins introduced at Lady Robinsons Beach - February 2018
Council has designed and implemented 50 custom beach bins along our 8km beach. The program was funded predominately by the NSW EPA Waste Less, Recycle More initiative funded by the waste levy. This also involved the creation and installation of educational and deterrence signage in conjunction with the effective NSW EPA 'Don't Be A Tosser' campaign. In the first week, approximately 300kg were collected in these beach bins! 
In April 2019, smart sensors will be installed on these bins which will assist with alerting officers of bin fullness and improve service delivery. The trial of these smart sensors may result in the implementation of smart sensors in public place bins throughout the local government area.
Additionally, bin infrastructure and capacity has been upgraded on the lower promenade and throughout Cook Park.
The entire initiative has introduced an additional 6,300L of bin capacity to the beach and Cook Park.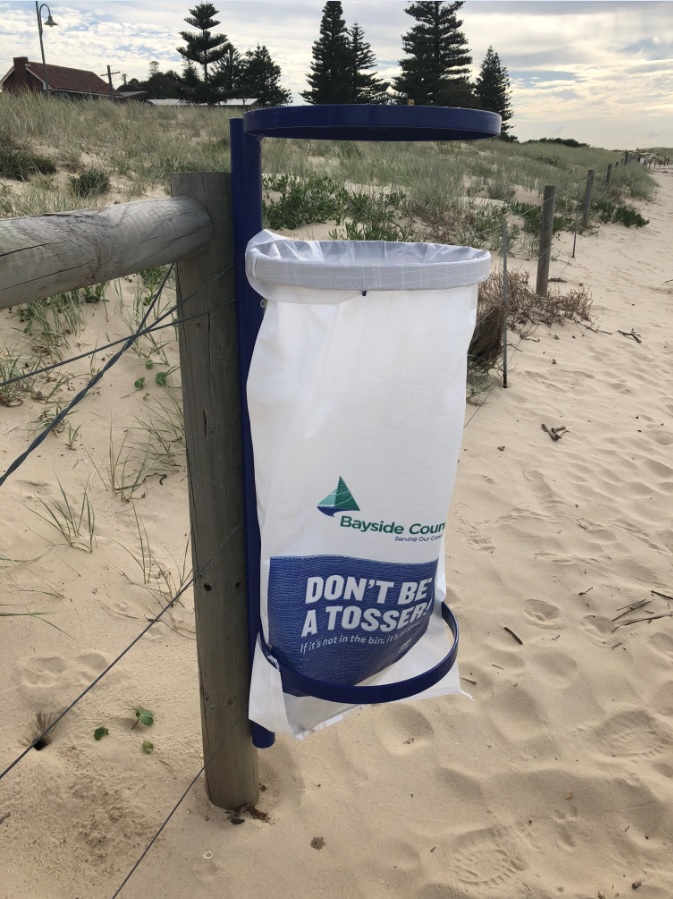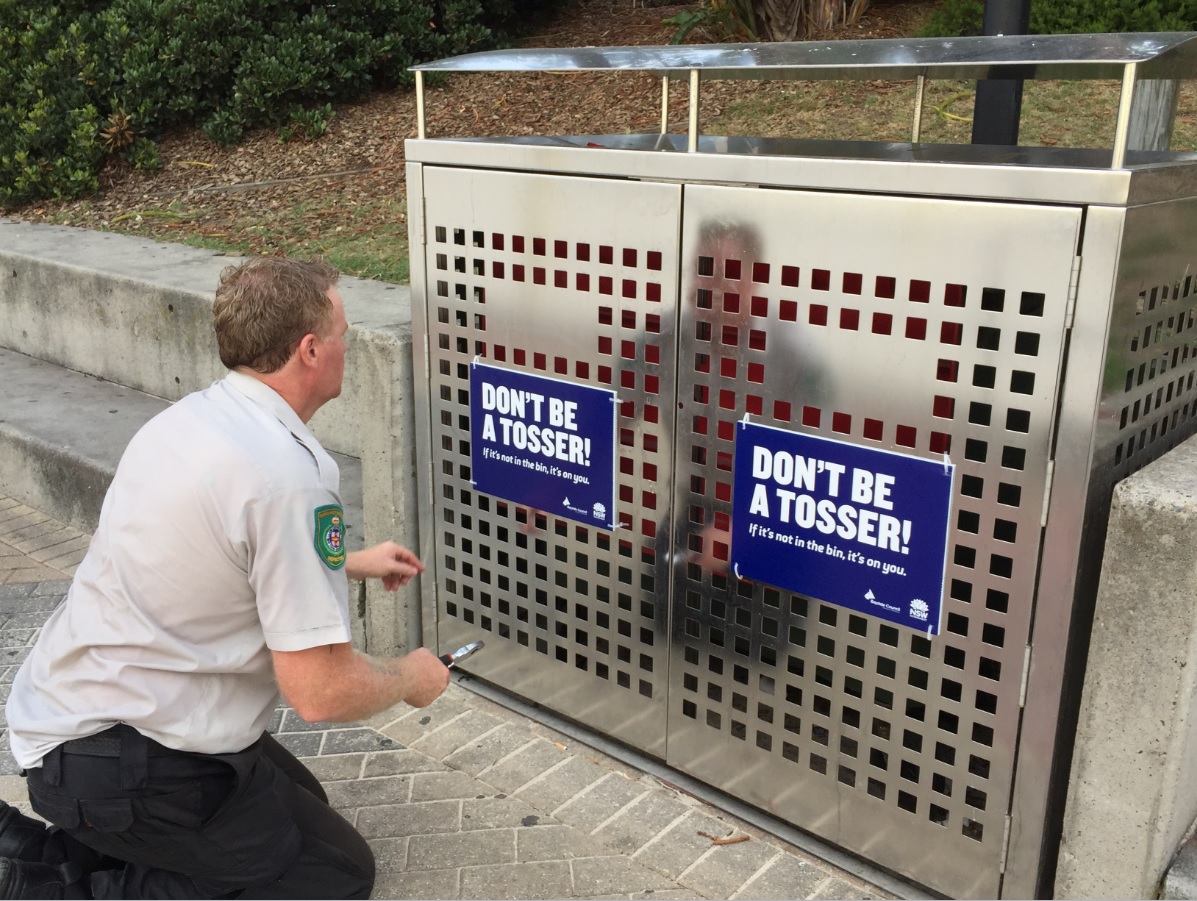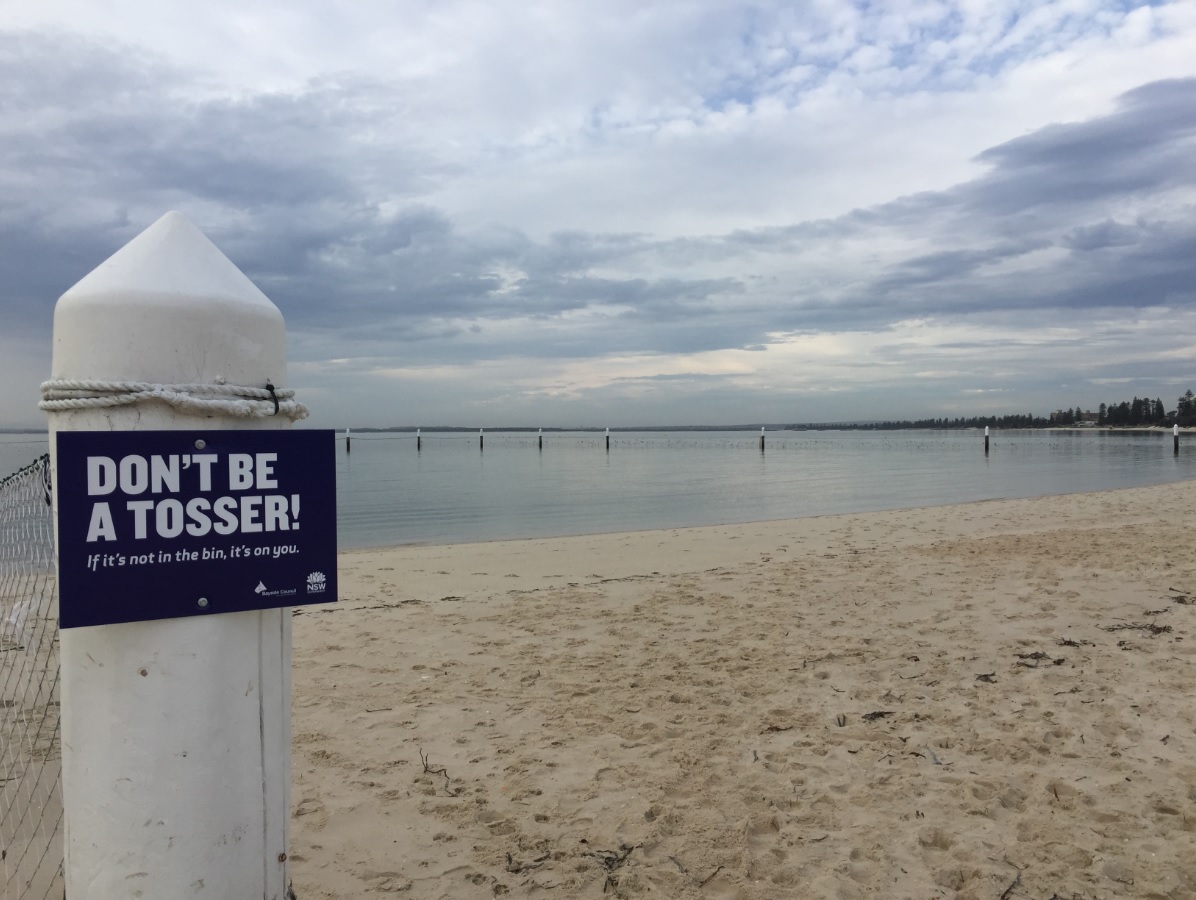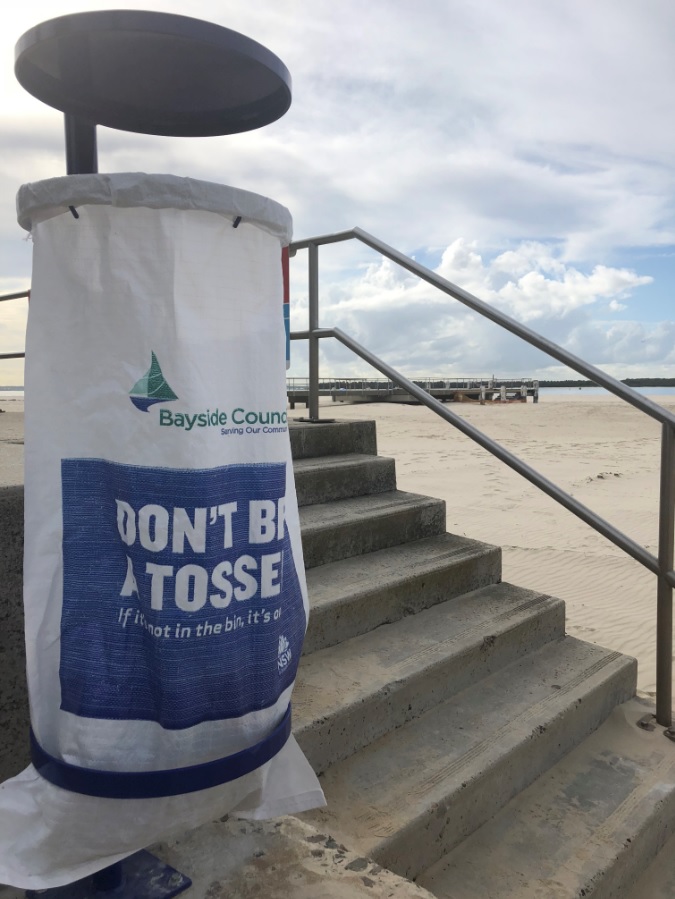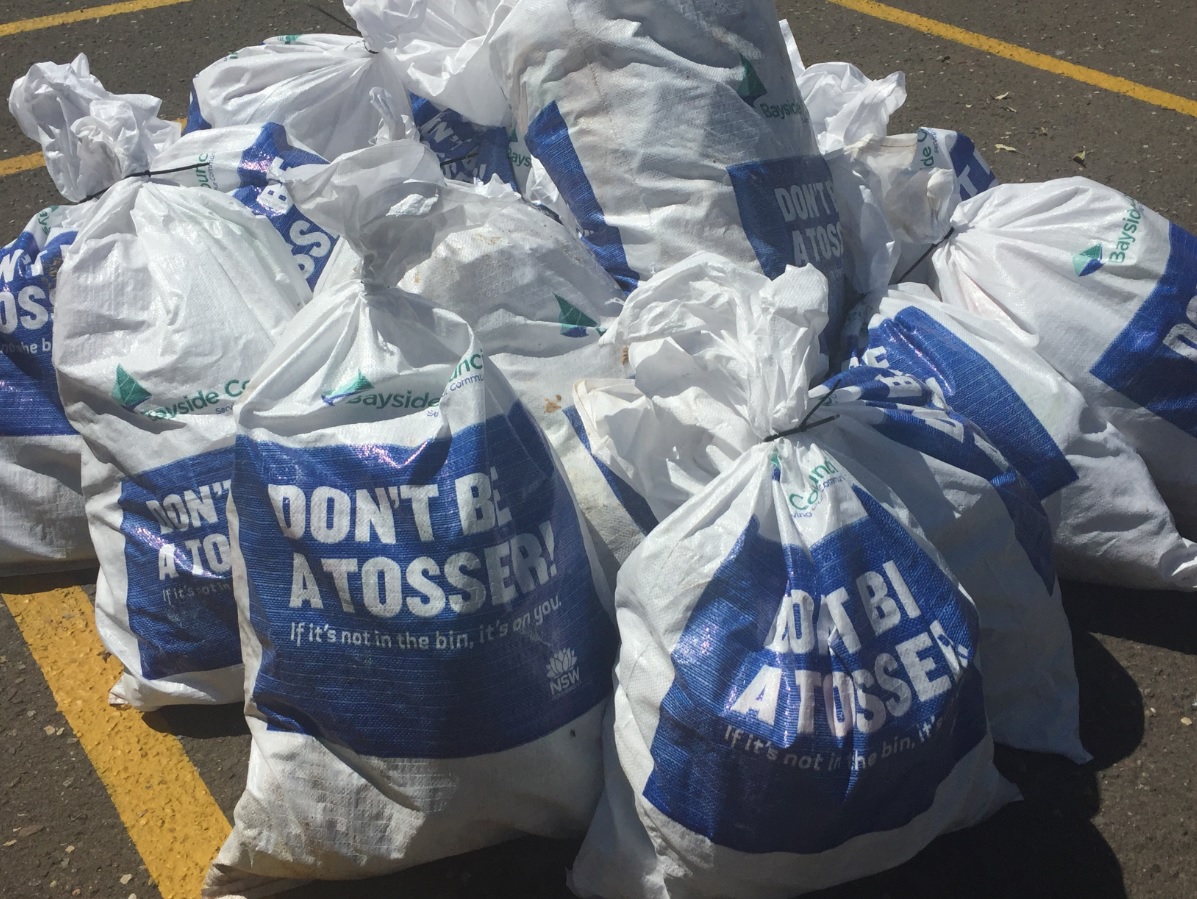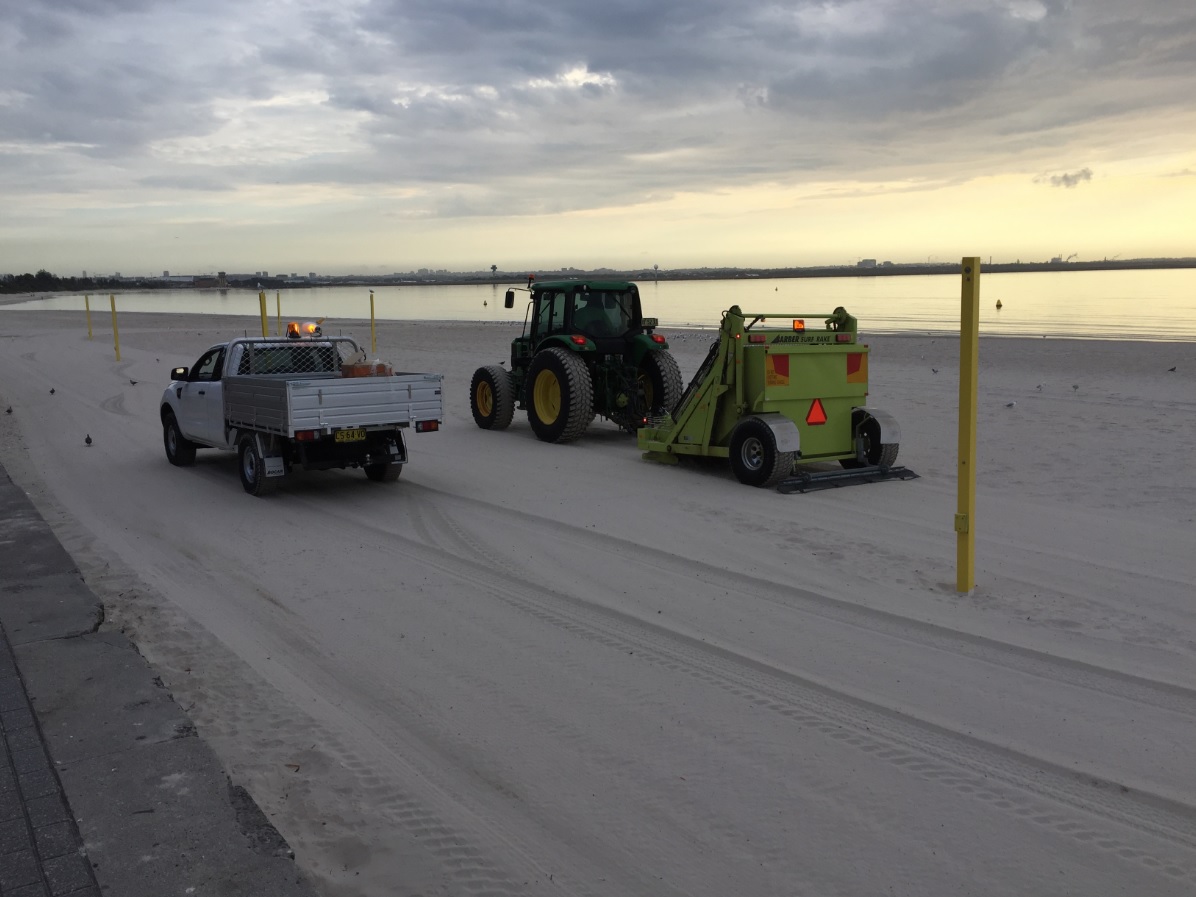 Botany Depot Community Recycling Drop Off Event - 16 February 2019
Thank you to all the residents that participated. It turned out to be an extremely busy event. Council staff assisted one resident vehicle approximately every one and three quarter minutes during the Community Drop Off at Botany Depot on Saturday 16 February.​​

The following items were dropped off by the community, separated by Council staff to then be collected by the appropriate re-use or recycling organisation.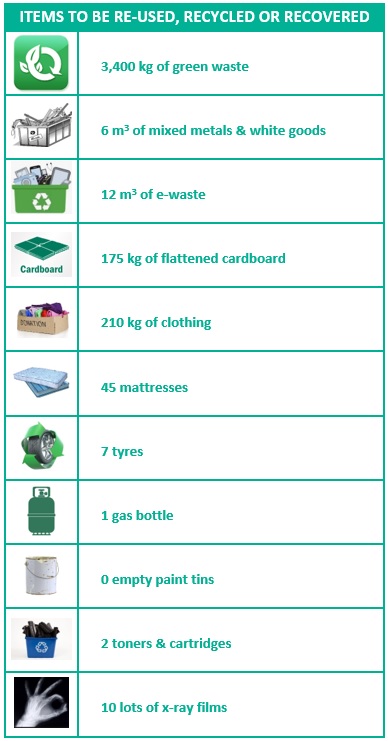 Bexley Depot Community Recycling Drop Off Event - 2 February 2019
Bayside Council would like to thank all residents that participated in the first Bayside Community Recycling Drop Off Event for 2019.
It was a great success, with Council staff assisting one resident vehicle every two and a half minutes.
The following items were dropped off by the community, separated by Council staff and then collected by the appropriate re-use or recycling organisation: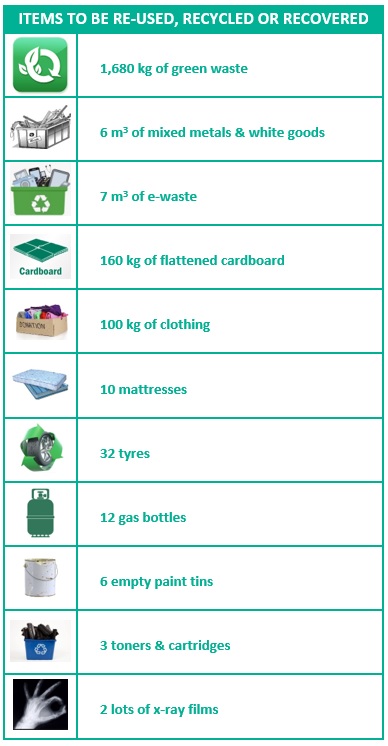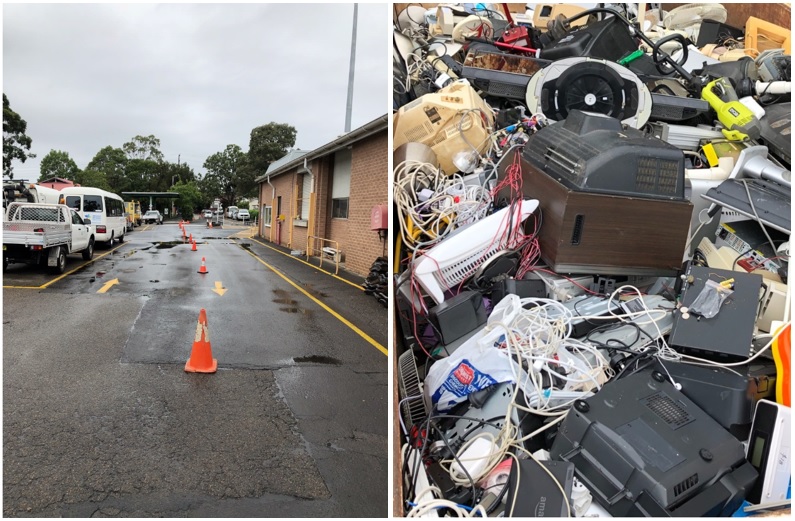 Council Introduces New Footpath Cleaning Unit - January 2019
Bayside Council's Waste & Cleansing Services has begun using the market leading, and Australia's first, NC 286R Euro 6 high pressure pavement cleaner with on-board suction system. Thanks to its combined system of hot water, high pressure and suction, it performs a deep cleaning of paved areas, designed to keep Bayside's Town Centres clean.
This unit provides a 50% energy savings, 30% water savings, leaves a dry floor immediately after operation and increases productivity by cleaning up to 1000m2 per hour. All dirty water will be disposed of responsibly in grey water tanks on-board the custom truck that transports this unit and at Council depots which is subsequently collected by contractors.
The custom designed truck that floats this unit to all areas within Bayside, is also equipped with a state-of-the-art silent high pressure cleaning unit with two 1000L tanks and 100m hose reel.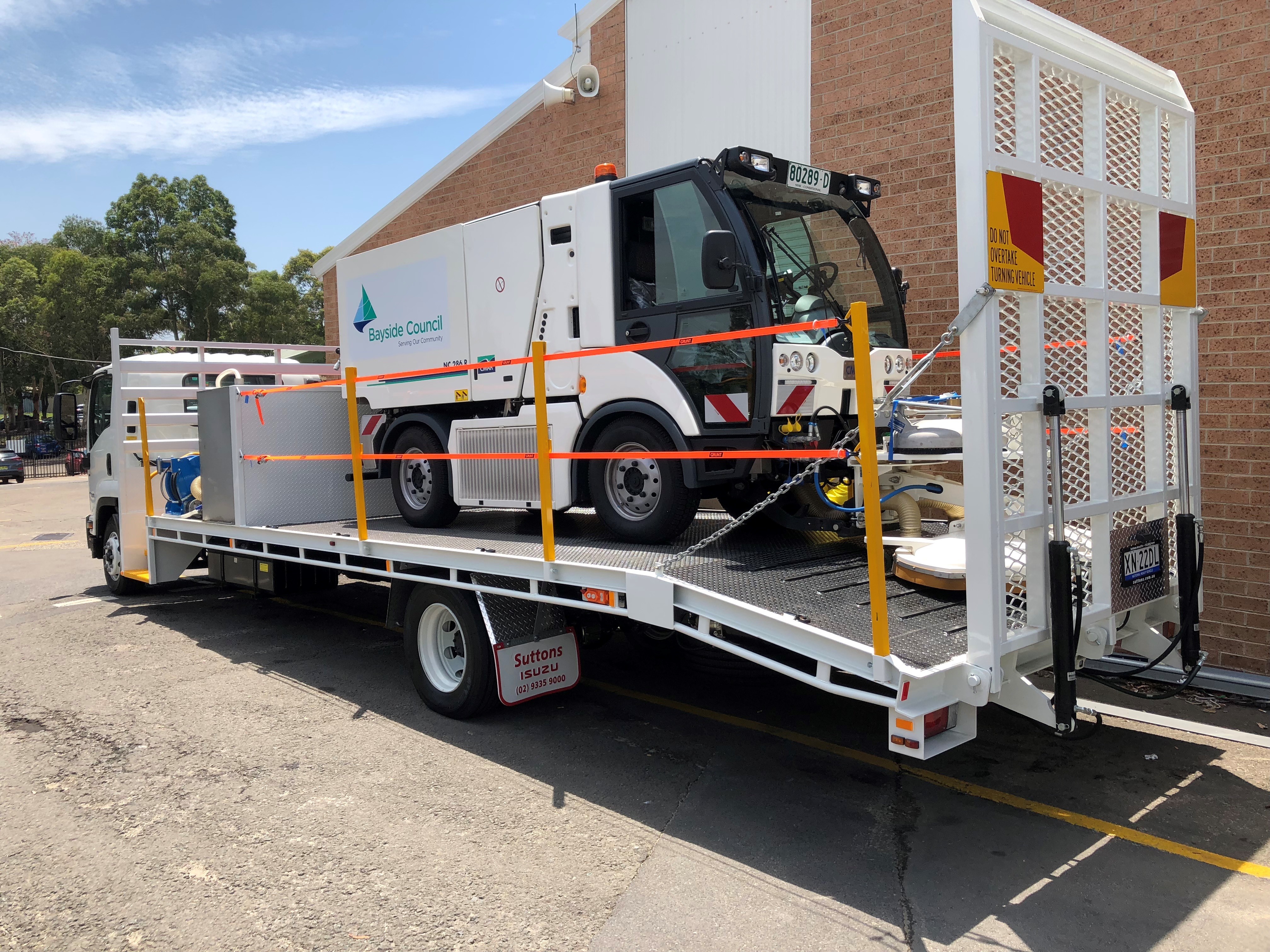 The 4-wheel drive, 4-wheel steering hydrostatic compact carrier was custom designed for Council to fit under Town Centre awnings. It is equipped with the latest technologies, as well as an on-board clean water 1150L stainless steel tank, a dirty water 1100L stainless steel tank, a hand held spray gun for finishing work, 1.2m wide cleaning bell equipped with high performance rotating joints, and a high pressure cleaning dome for use in places that are difficult to access. It offers exceptional ecological and economic performances, without the use of chemicals.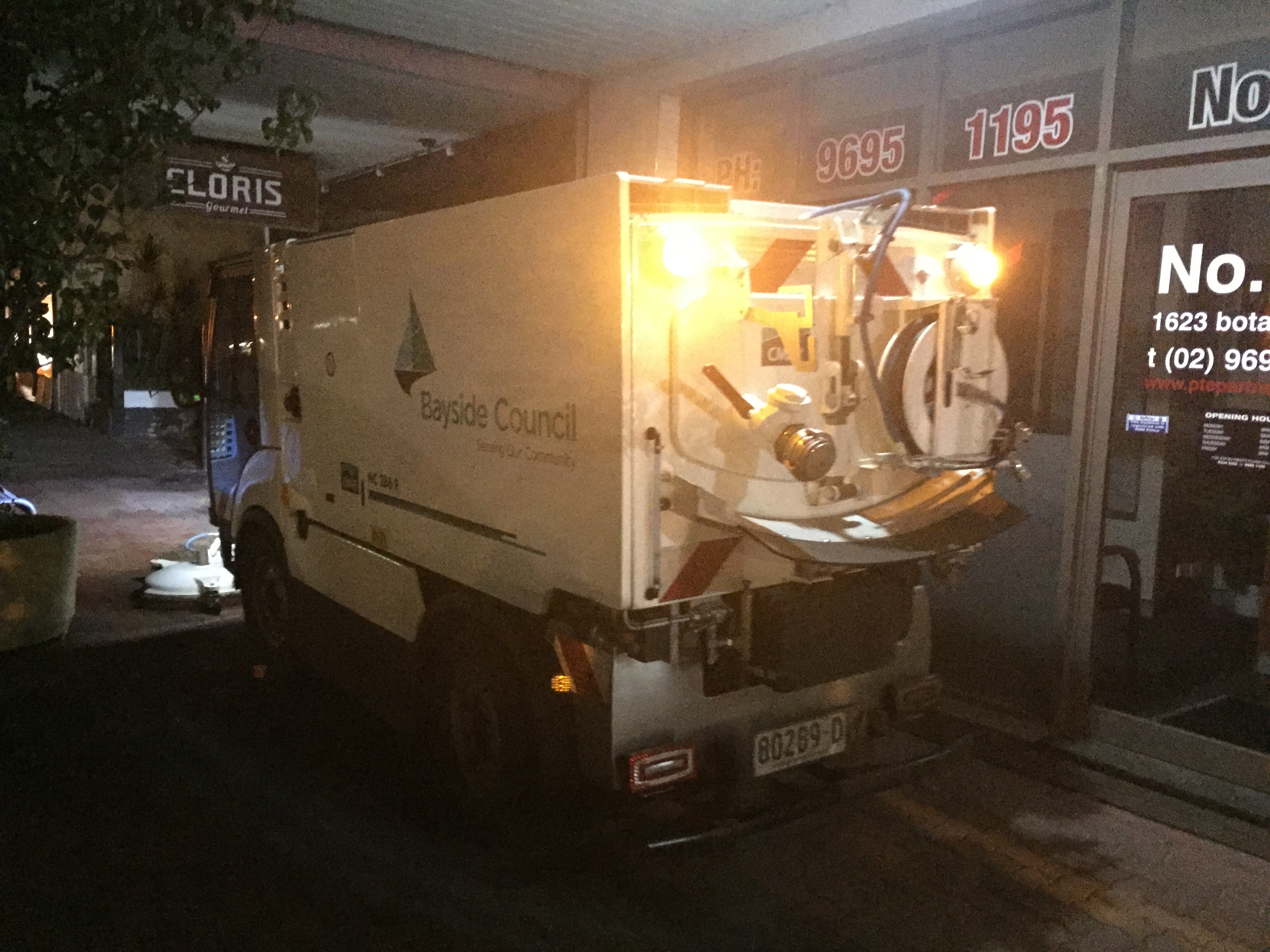 Council Introduces Another "Baby" Mechanical Sweeper - January 2019
After the successful procurement and trial of a similar mechanical footpath & street sweeper in 2018, Bayside's Waste & Cleansing Services has just taken ownership of another upgraded version. This new "baby" sweeper will predominately be responsible for cleaning Bayside Town Centres and surrounding areas. Staff equipped with hand held or backpack blowers assist this sweeper blowing litter and leaf droppings into its path from footpaths, along kerbs and gutters. This process vastly improves delivery of services.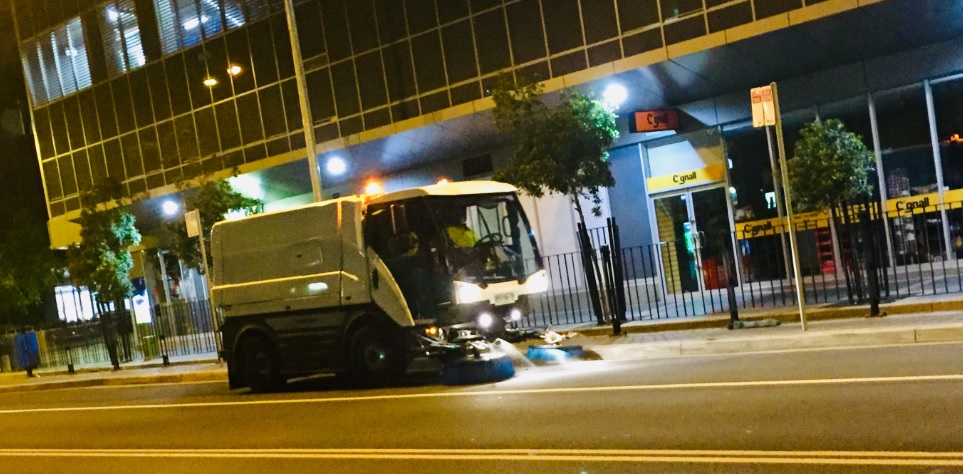 See this "baby" in action at: https://youtu.be/MlcKNwoEmXE
Essential Services to Continue as Normal over Christmas - 20 December 2019
Council's Waste & Cleansing Services would like to advise our community that essential services such as waste bin collections will take place as normal throughout the Christmas and New Year's period.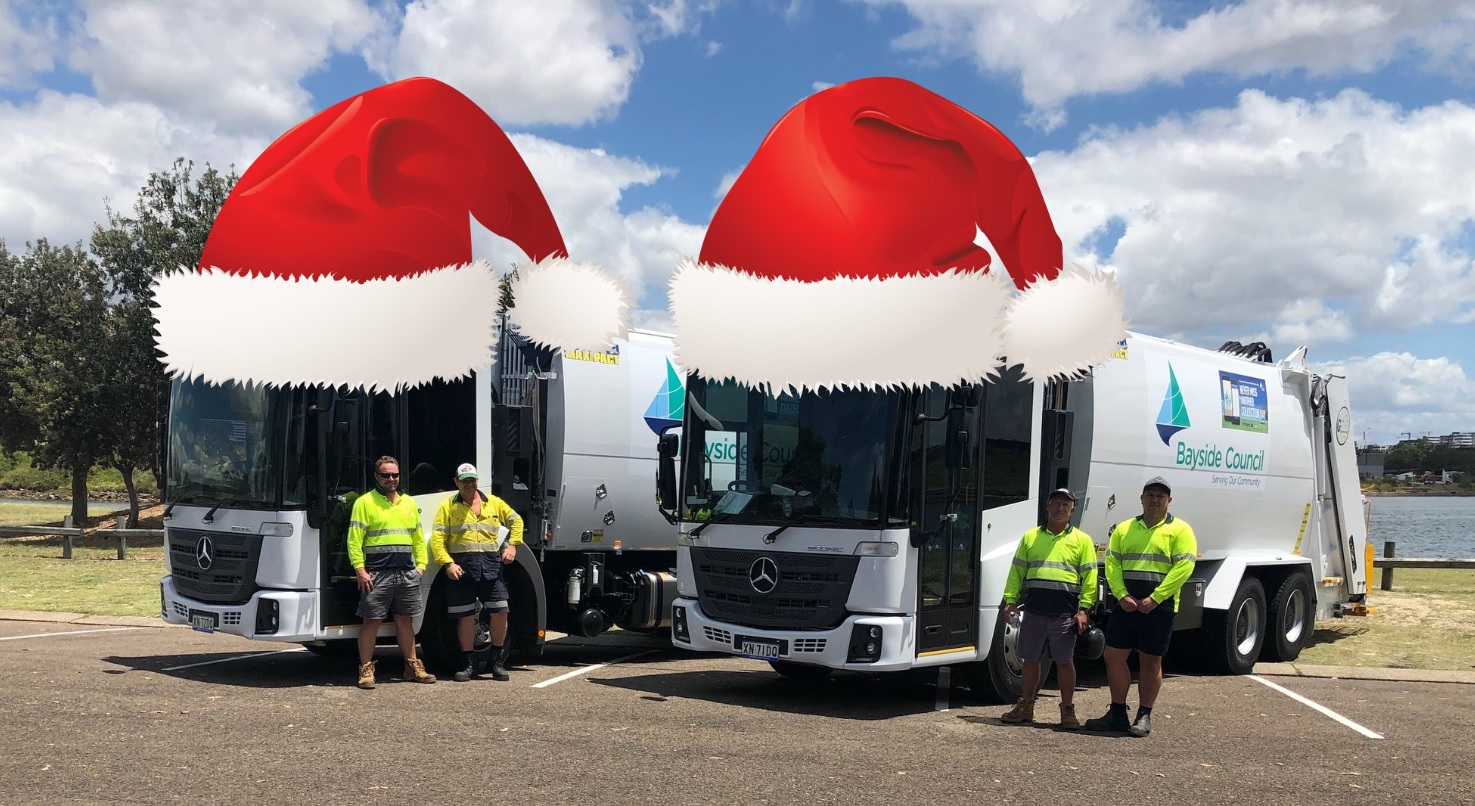 We've developed a Bayside Waste Services App so residents can access information on their recycling and waste services 24/7.
To view your collection dates please download the Bayside Waste Services App on to any smart device via your App store;
Google Play: https://play.google.com/store/apps/details…
App Store: https://itunes.apple.com/…/bayside-waste-servi…/id1290692726
Windows Store: https://www.microsoft.com/…/bayside-waste-serv…/9nddl338q2k9
Alternatively, please visit Council's website to view dates online at https://impact-apps.bitbucket.io/bayside-waste-calendar/
For those residents that love a hard copy of these dates, we are pleased to announce that the 2019 calendars and magnets are well into distribution and should be received by the start of the New Year. In the New Year, our Customer Service Centres located at the Rockdale and Eastgardens Libraries will also have additional hard copies available for those that have misplaced or lost their waste and recycling calendar or clean-up dates magnet.
Council's Waste & Cleansing Services would like to wish everyone a very Merry Christmas and a Happy New Year.
Council takes ownership of four new Mercedes trucks & Garwood compactors - December 2018
Bayside Council has taken ownership of four new Merceds Benz Econic trucks with 24 cubic Garwood compactors, replacing the entire Clean Up Service fleet.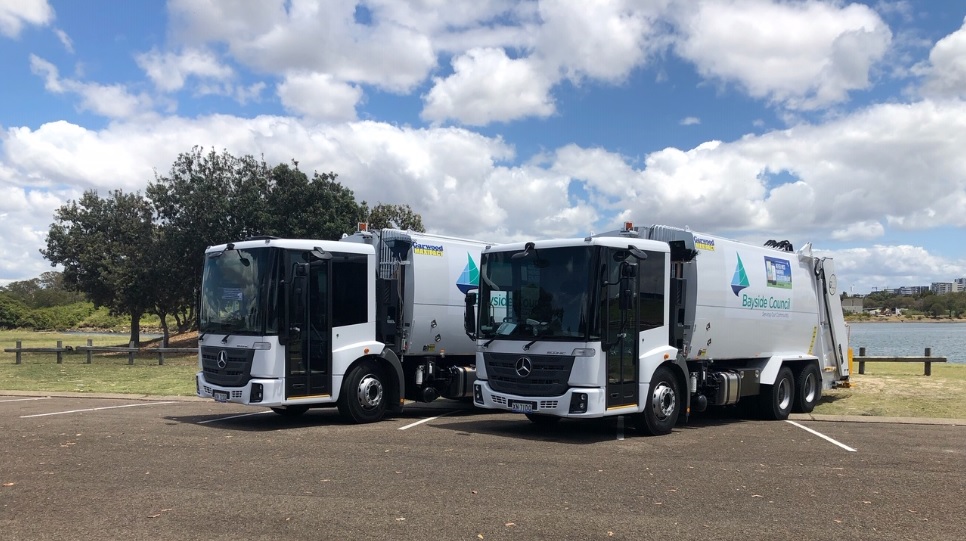 The Econic was chosen for its extraordinary low-entry concept which comes with convincing advantages. The most important one: the DirectVision cab which provides a clear view. The low seating position brings the driver down to eye level with all road users. Seeing more means our drivers can react more quickly. In hectic traffic, that can be the advantage that makes the difference.
Glazed folding door which reaches down to the ground on co-driver's side ensures a clear view of pavements. Mirror system for extending the field of vision to cover the working area and blind spots.
The Econic is a decisive step ahead of conventional trucks. And that has to do with its low seating position and the panoramic glazing of the cab, plus the fact that the Econic is equipped with many safety assistance systems. With the aid of cameras, sensors and excellent lighting systems, Council drivers can concentrate on the most important tasks – even in situations which require utmost concentration: in lively city traffic, when turning, manoeuvering and reversing.
Employee protection has been made number one priority thanks to the lower entry – not only is it ergonomic, it's also safe and gentle on the back and joints. The low entry with just two steps also makes work processes much quicker, especially when the task at hand requires plenty of frequent stops. The walk-through cab even allows the driver to conveniently enter and exit the cab from the traffic-free side of the road using the inward-opening folding door. That's not just practical, it also prevents accidents.
The Econic combines economic operations with respect for the environment in exemplary fashion, coming with an efficient Euro 6 diesel engine.
The Garwood compactors placed on the Mercedes truck frame are much larger than Council's previous fleet, increasing the payload and productivity, with less annual round trips required to the waste transfer stations.
Volunteers assist Council with Beach Clean Up - 6 December 2018
Council's Waste & Cleansing Services would like to acknowledge and thank all the wonderful volunteers from American Express for assisting Council with a clean-up of Lady Robinson Beach. This is in partnership with the U.S Organisation Ocean Conservancy and local experts Tangaroa Blue.
Approximately 100 volunteers assisted in covering approximately 4 km of the beach. The volunteers arrived in two large buses and split up into two groups, with starting locations at Brighton Le Sands Beach and Ramsgate Beach.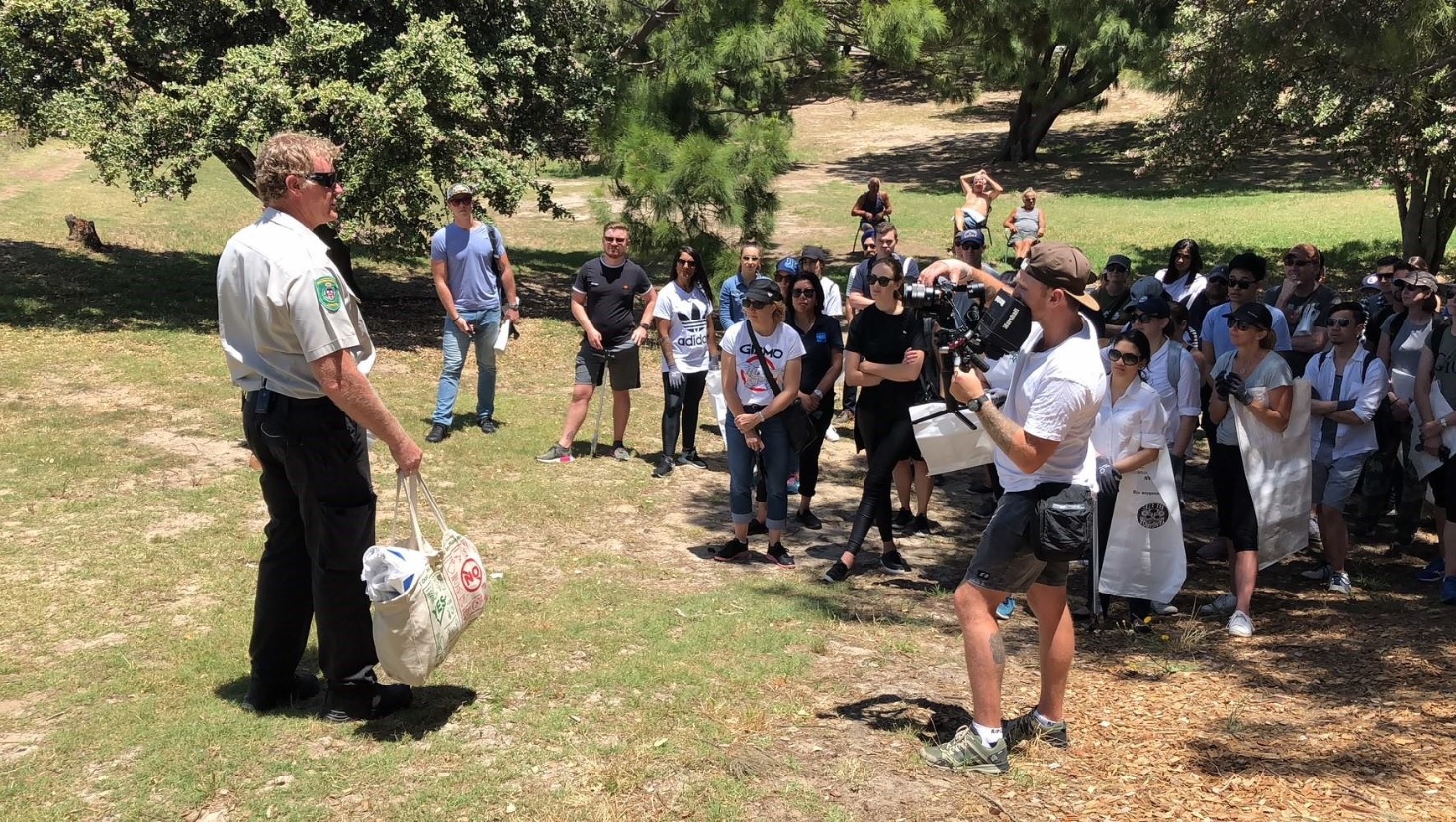 Council provided additional bags, pickers, sharp containers, first aid kits and gloves. Council's Waste Avoidance and Resource Recovery Education Officer spoke to all the volunteers prior, providing information on Council's litter prevention programs, and informed them of Council's new initiative to begin on the beachfront in early 2019. This new beach litter reduction initiative will be conducted with the NSW EPA and includes new bin infrastructure, signage and smart technology sensors along the beachfront area.
AMEX were the Sustainability Sponsors for the event and proudly reported that the volunteers collected approximately 361 kg of waste today along the dunes and beach area. This is the FIRST EVER American Express clean-up in Sydney and part of a global initiative where American Express are doing coastal and beach clean-ups in 10 countries.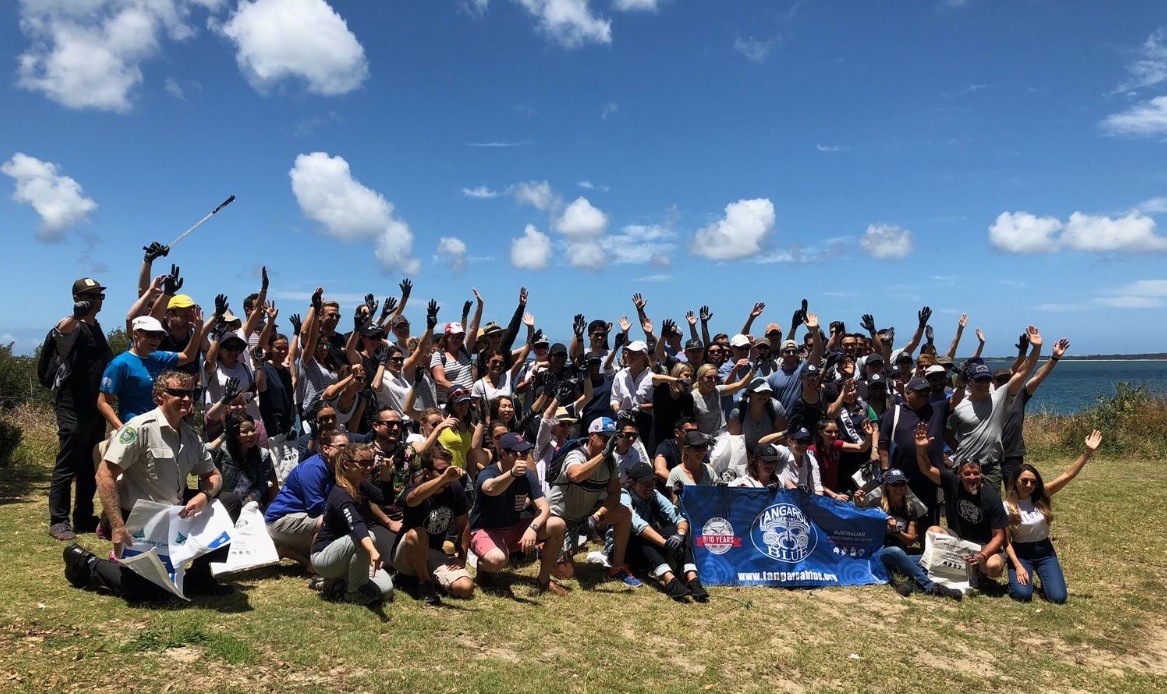 Tangaroa Blue Foundation is an Australian registered charity that focuses on the health of our marine environment. Tangaroa in Māori mythology is the God of the Sea. Since 2004, volunteers have removed over 1,025 tonnes of waste. Please visit their website at https://www.tangaroablue.org/.
Ocean Conservancy is involved with numerous programs and initiatives that include Fighting for Trash Free Seas® and International Coastal Cleanup. Since 1985, volunteers have collected over 110,000 tonnes of rubbish. Please visit their website at https://oceanconservancy.org/.