Kerbside Bin Collection Services
Bayside Council conducts approximately 4 million bin collections annually - servicing over 170,000 residents.
Red-lidded Bin Service
By 2030, Bayside is aiming to divert a minimum of 85% of material found in the red-lidded bin from landfill. This will only be possible with the use of emerging technologies and processing. Bayside is one of few Councils in the state that provides a 240L red-lidded bin to residents for domestic waste services. In 2020, Council anticipates collecting 43,000 tonnes in the red-lidded bin. Please make sure your bin is not overweight, the lid is closed and that you dispose of accepted items only.
Residents who do not have green-lidded bins, should put all green waste in their red-lidded bin.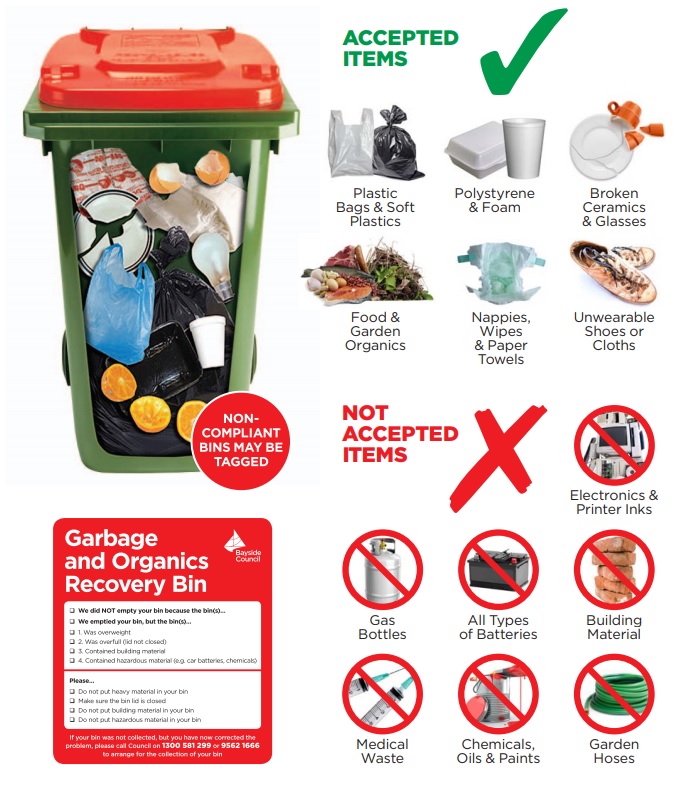 Yellow-lidded Bin Service
A recent study discovered that contamination in yellow-lidded recycling bins was an issue – especially plastic bags.
An recent initiative by Council reduced the levels of contamination by over 9%.
Please place loose recyclable material in this bin and your plastic bags in the red-lidded bin.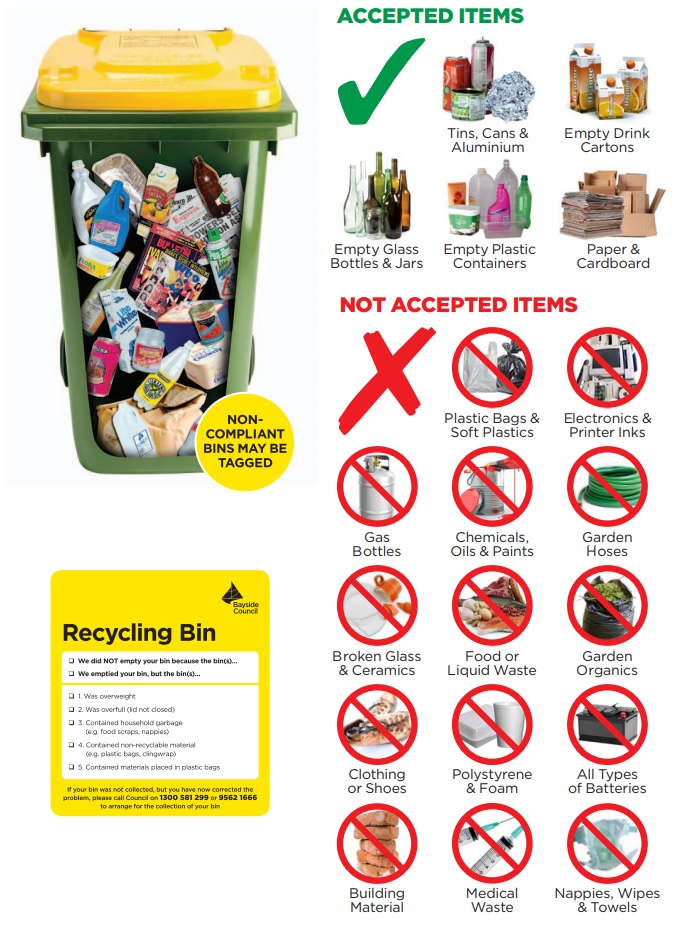 Green-lidded Bin Service
This service is only available in some parts of Bayside at the moment. Investigations are underway to potentially extend this service, which is subject to existing contractual obligations, legal restrictions, resources, sustainability and environmental benefits, financial impact and community interest. If you're not sure if your property should have a green bin, please check our online calendar, if there is a green-lidded bin collection date each fortnight, your property may be eligible for one.  Please contact Customer Service for more information. Properties without a green-lidded bin should use their red-lidded bin for green waste.
In 2018-19, Bayside residents recycled approximately tonnes of material in their green waste bins. These bins were rolled out in recent years as part of an NSW EPA infrastructure grant and Bayside Council is continuously monitoring the success of the program. Please make sure that all green waste is placed inside the bin with lid firmly closed and that no material is presented on top, on the side or sticking out of the bin. Please do not contaminate this bin with non-accepted items.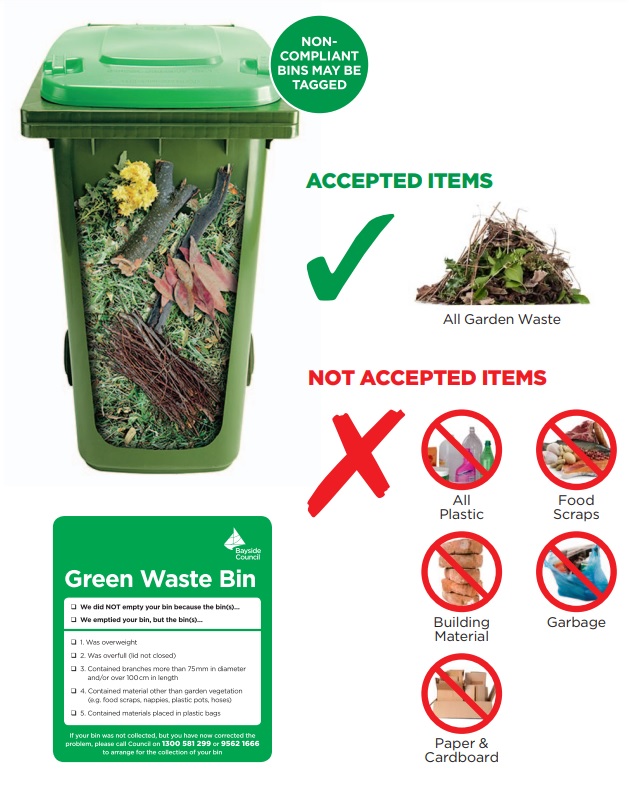 Kerbside Bin Rules
The placing of incorrect materials in your collection bins is called contamination. Bins that are deemed to be contaminated by our drivers, will be tagged and may be left un-emptied.
Please ensure correct materials are placed in your waste and recycling bins.
Bins should be placed out PRIOR TO 5am on your service days.
Bins should be a minimum of 30cm APART.
Please DO NOT place bins under trees, low power-lines or overhead obstructions.
If bins are obstructed by a parked car they MAY NOT be serviced.
Additional material beside or on top of your bin MAY NOT be collected.
Bin lids MUST BE closed completely - overfilling bins may result in spillages.
Bins that are overweight WILL NOT be serviced. Jamming material into the bin results in blockages and the bin may only be partially emptied.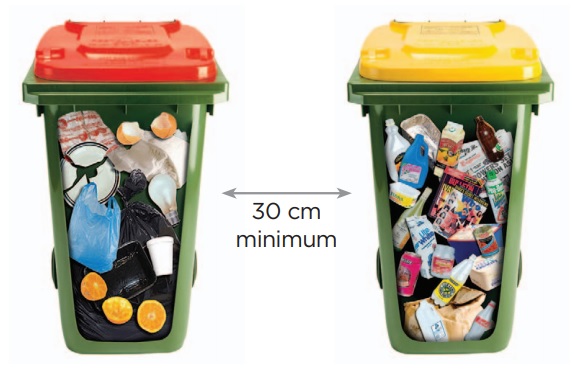 Damaged, Missing Bin or Missed Service
If your bin is damaged, stolen or has not been collected, call Council's Customer Service on 1300 581 299 or report it on Bayside Waste Services App, as shown below.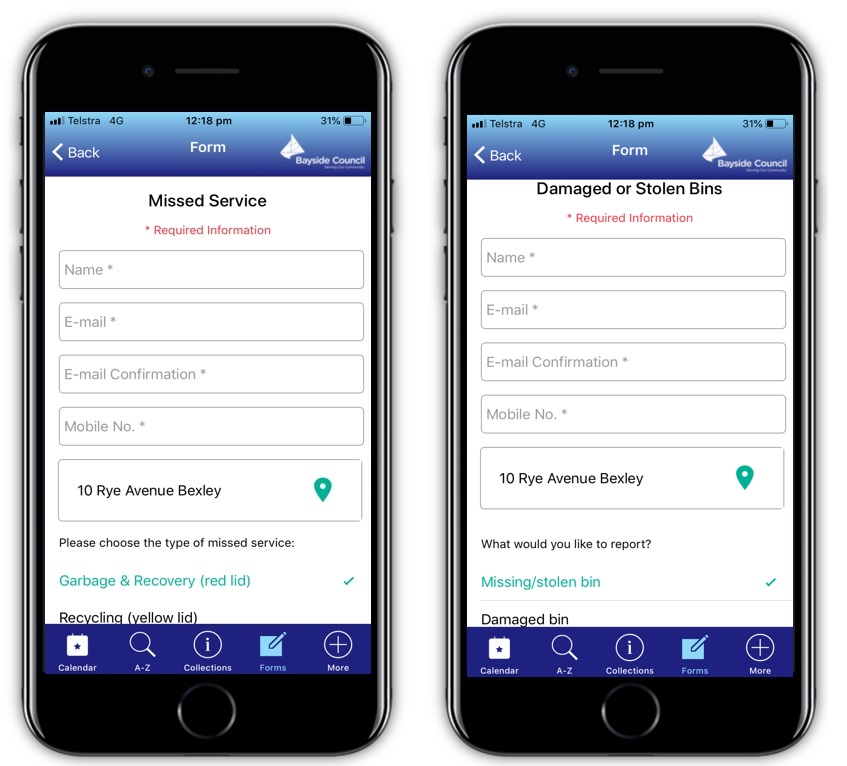 Onsite Large Multi-Unit Dwelling Collection
Some large multi-unit sites can accommodate on-site bin collection services. Council encourages on-site collections in all new development applications.
Online Calendar
At the beginning of each calendar year residents are provided with their weekly collection and household cleanup service dates. This information is also AVAILABLE ONLINE.
Waste Bin Application
If you require additional bin(s), or need to order a new set, please use this BIN APPLICATION FORM and send it HERE.  Only 240L bins are available, unless you are an authorised representative of a large multi-unit complex, in which case large bulk bins may be permitted at certain locations.