Bayside Mayor Joe Awada attended the inaugural Multicultural Youth Iftar hosted by 3 Bridges and Al Zahra College at the Arncliffe Youth Centre last night.
"I am grateful that the easing of COVID restrictions has given our community the opportunity to gather safely in groups to celebrate our customs and traditions," Mayor Joe Awada said.
"I would like to thank 3 Bridges and Al Zahra College — for the work they have put into organising this evening — but also for the work they do supporting and empowering our young people.
"The new Arncliffe Youth Centre is the perfect venue for this dinner — and it is wonderful to see people of different faiths here tonight sharing in the spirit of Ramadan with the multicultural community of Bayside."
This Multicultural Iftar was the initiative of the 3Bridges Youth & Community team, and Al Zahra College.
The 3Bridges Youth team has also been working with the young people at the school to support their mental health and wellbeing.
Bayside Council's own Iftar event, Ramadan @ Bayside, will be held on Saturday 8 May in Walz street Rockdale from 6.30pm.
COVID restrictions mean the event will be smaller than previous years, but it will be an opportunity to share a meal and — regardless of your cultural background — celebrate the tolerance and diversity of the Bayside community.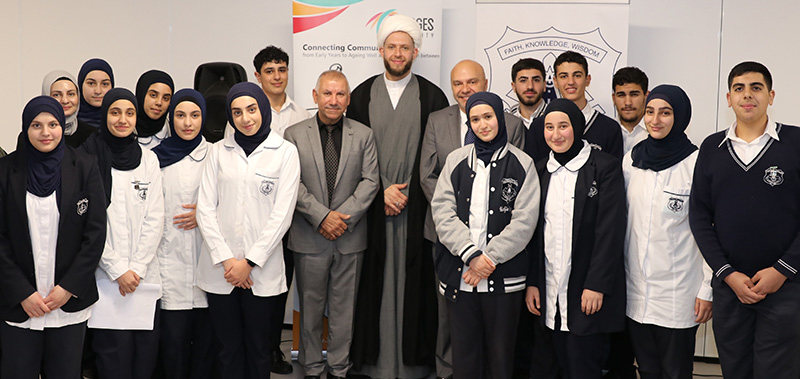 Bayside Mayor Joe Awada, Sheikh Nami Farhat, Dr Wissam Mustapha and students from Al Zahra College
Published on:
Fri, 30/04/2021 - 15:32