Bayside Council is proud to open the social history exhibition, Parks for the People! Eastlakes, Jack Mundey, and the Green Bans, which tells the story of how Eastlakes Reserve was saved as a 'park for the people' and why it was recently re-named Jack Mundey Reserve.
In November 1971, part of the former Rosebery Racecourse (now known as Eastlakes) was the subject of only the second 'green ban' in history.
This exhibition tells the story of how residents, with the support of Jack Mundey and the NSW Builders Labourers' Federation, stood up to the powerful, wealthy developers and the politicians who supported them.
The exhibition, which opens on Monday 29 November, contains original maps and plans for Eastlakes and items borrowed from the Trades Hall Collection.
As Secretary of the NSW Builders Labourers' Federation (BLF), Jack Mundey listened to the concerns of Eastlakes residents, who were angry that the park they were promised might have more apartments built on it. 
The green ban to preserve the land for open space was successful in halting building work on this site.
By mid-1974 an agreement was reached between Botany Municipal Council, and the property developer, ensuring this land would be free from further development.
In 2020 Council voted to rename Eastlakes Reserve in honour of the late Jack Mundey who played such a pivotal role in saving this open space reserve in Eastlakes. 
Exhibition Details
Parks for the People!
Eastlakes, Jack Mundey, and the Green Bans
Mascot Library, 4 Hatfield Street, Mascot
Monday 29 November to Monday 28 February 2022
Monday to Friday 10am to 6pm
Please be aware current COVID safe entry conditions apply at all Council libraries.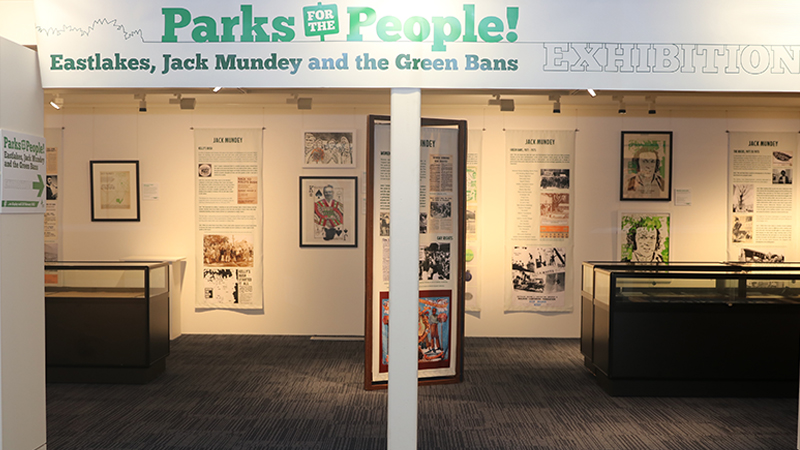 Published on:
Wed, 24/11/2021 - 11:29