Bayside Mayor Joe Awada announced the winner of Bayside Council's First Nations Art Competition at a function in the Rockdale Library last night to mark the start of Reconciliation Week.
"First Nations People were always creative," Mayor Joe Awada said.
"They were Australia's first explorers, first navigators, first engineers, first farmers, first botanists, first scientists, first diplomats, first astronomers and first artists.
"Because of this Bayside Council puts great importance in reaching out to First Nations people, ensuring that their history is told truthfully and that they have a position of prominence in our community."
The First Nations Art Competition is one of the ways Bayside Council acknowledges its unique First Nations culture.
Bayside Council, located on the shores of Botany Bay, is fortunate to fall on the land of two Local Aboriginal Land Councils' — Metropolitan and La Perouse.
Bayside Council is proud to have long term First Nations residents and traditional custodians living in the Bayside Area.
The winning art works will be displayed in Bayside Council's buildings and publications.
The winning entry Durrur Yarruwala - (Always Strong) by Peta-Joy Williams will feature on the cover of Bayside Council's Reconciliation Action Plan, Reflect which will soon go on public exhibition.
Reflect is aimed at strengthening and setting the framework to create a future built on respect, understanding and empowerment walking together acknowledging the past and embracing our rich cultural history.
The artworks will be on display at the following venues:
Rockdale Library: 27 May – 2 June
Mascot Library: 4 June – 9 June
Eastgardens Library: 11 June – 16 June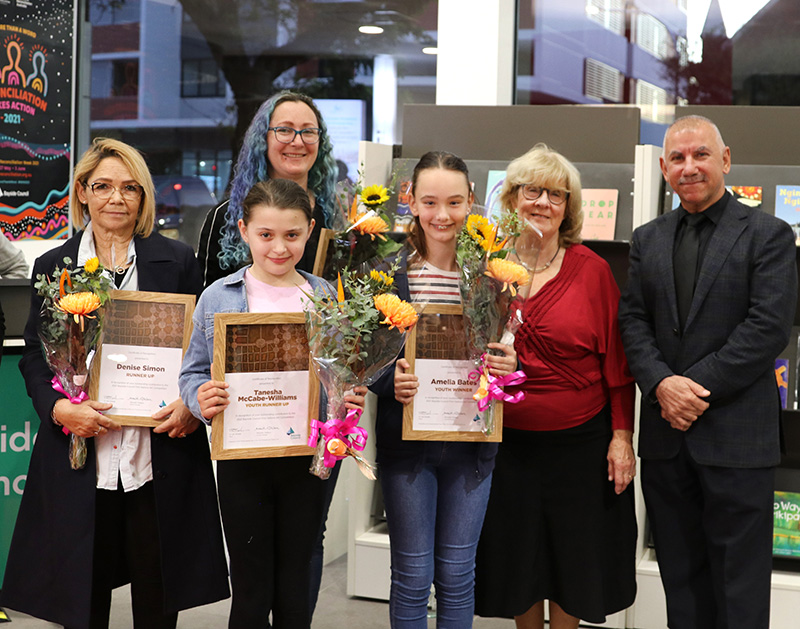 The artists with Councillor Liz Barlow and Bayside Mayor Joe Awada
Background Information
Winners of the 2021 First Nations Art Competition
Peta-Joy Williams - WINNER
Durrur Yarruwala (Always Strong)
This painting depicts the use of Wiradjuri Language to describe the young warrior subject of the piece.
The young warrior is coming of age where he would traditionally be put through Law or the Rules. However due to his disconnection to culture and not being allowed to continue his traditions, those words are now behind him.
The young warrior is surrounded by the language of his past and is trying to gain his spiritual connection to that language. He does this through song and dance. Though the generations before him have lost connection his ancestors help him, guiding him through dance and songs.
He now hears the old people in his dreams and feels his language. He is now Always Strong - Durrur Yarruwala.
Denise Simon – RUNNER UP
Beauty of the Shells
The Passion of my Aboriginal heritage and love for modern art has inspired me to create my own unique artistic fingerprint by using shells and creating canvas shell art, by creating patterns and shapes, various wildlife, I love bringing out the beauty in the shells by enhancing their shape and colour with acrylic paints.
Amelia Bates – YOUTH WINNER
The Hand Saving the Lost Generation
My work means the hand saving the lost generation.
Tanesha McCabe-Williams – YOUTH RUNNER UP
Our Elders are Part of the Land
Our Elders are part of the land beneath us even though they aren't part of what's still living.
Published on:
Fri, 28/05/2021 - 15:14