Bayside Council officially recognised Councillor Liz Barlow for her dedication and commitment on the anniversary of her 25 years of service as a local Council representative.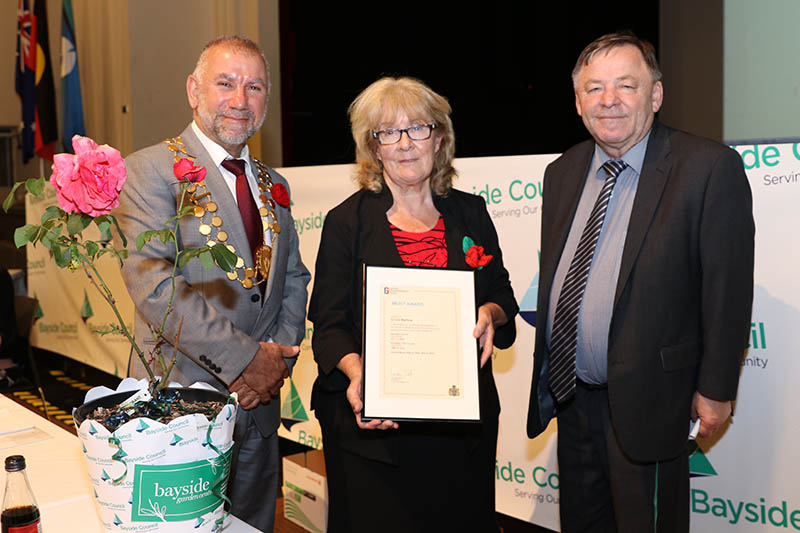 Mayor Joe Awada, Councillor Liz Barlow and Councillor Bill Saravinovski
Councillor Liz Barlow, was first elected to the former Rockdale City Council at the local government elections held on 9 September 1995, with September 2020 marking her 25th anniversary of dedicated service and representation in local government.
In the 2002/2004 mayoral term, Liz Barlow was elected as the first female Deputy Mayor of Rockdale City Council.
Together with the first female Mayor, Yvonne Bellamy, they were a formidable and very independent team.
Councillor Barlow was also elected Deputy Mayor for the 2012/2013 mayoral term with Councillor Shane O'Brien serving as Mayor.
The very long list of Council committees on which Liz has served as an outstanding and committed delegate, include the Tourism and City Business Advisory Committee, the Lydham Hall Management Committee, the Rockdale Community Nursery Committee and the Botany Historical Trust.
Liz is, and has always been, a true independent focussed solely on the community.
Over the years, she has continued to be a passionate advocate for issues affecting her local ward residents and the wider community.
These include appropriate local development, a focus on protecting the environment and heritage issues; development of local assets such as the Angelo Anestis Aquatic Centre and the upgrade of the Rockdale Library.
Liz is also extremely proud of the ongoing success of the Council nursery, now known as the Bayside Garden Centre, which provides meaningful employment, quality products and a profit share to Council.
Councillor Barlow was an enthusiastic participant in the annual Rockdale Community Fun Run/Walk in support of the Knights of St George Heart Association, a cause that is very close to Liz's heart.
Liz is fiercely proud of being an accessible and available Councillor to her ward and the broader community.
There is no issue too big or too small for Liz to go into battle for her residents. For most of the past 25 years Liz managed her local café while attending to her civic responsibilities, with local residents knowing her café was a place where they would be heard and that their issues would be promptly followed up.
Published on:
Thu, 12/11/2020 - 11:53