Bayside Council accepted the recommendations of the evaluation panel and awarded $103,582.85 in grants to 33 local organisations that provide community services.
Mayor Joe Awada and Councillors met with the recipients at a function before the Council Meeting on Wednesday 9 July 2021.
"Bayside Council's annual Community Grants Program supports local community organisations and clubs to establish, extend or improve programs or services to the community," Mayor Joe Awada said.
Council provides two types of community grants: Seeding Grants of up to $5000 and Small Grants of up to $2000.
The budget allocation for the 2020-2021 Community Grants was $100,000.
Council received a total of 55 applications seeking a total of $177,947.61.
This was the largest number of applications ever received by Council. The Evaluation Panel considered all applications and recommended that 33 with a total value of $103,582.85 be funded.
The additional $3,582.85 will be provided from funds normally used for donations.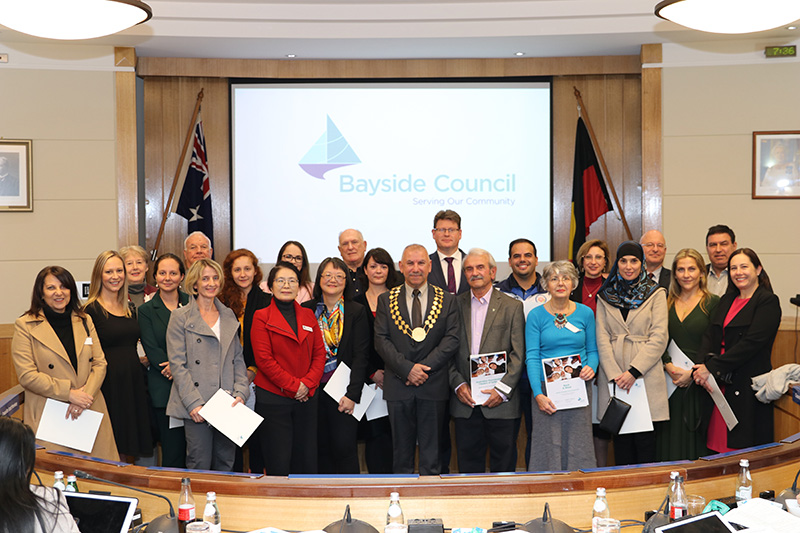 Seeding Grants: Up To $5,000.00

Organisation

Program Description

Amount

2Connect Youth & Community Inc.

Social interaction, skill building, mentoring and leadership opportunities for marginalised young people in the Bayside area.

$5,000.00

3Bridges Community

Raise awareness of dementia through intergenerational activities.

$5,000.00

Bay City Care

Provide financial assistance vouchers to women with children experiencing domestic violence.

$5,000.00

Exodus Youth Worx

Cultural Art Workshop to increase social connection for older Arabic-speaking Women.

$5,000.00

Sydney Multicultural Community Services

Art for Wellbeing Workshops to create a safe and friendly space for new migrants and refugee women living in Bayside.

$5,000.00

Fighting Chance (Avenue Botany)

Avenue Learning supporting skill development for people with disability in Botany

$5,000.00

Windgap Foundation

Host a community market day on International Day of People with Disability.

$5,000.00

Integricare Early Learning Centre Rockdale Plaza

Let's Talk Speech & Bilingual program to teach language & communication development through play.

$4,950.00

St George Children with Disabilities Fund Inc,

Music Therapy for children who have significant learning needs to learn and communicate through music and musical instruments. 

$5,000.00

Australian Macedonian Theatre of Sydney

Publish a bilingual Macedonian community magazine.

$5,000.00

Macedonian Australian Welfare Association

Seniors Connections and Healthy Lifestyles for older Macedonian people in the Bayside area.

$5,000.00

Rockdale Community Garden

Setup and develop a sustainable community garden.

$5,000.00

Holdsworth Community Ltd

Seniors Wellbeing Program keeping elderly Bayside participants active and independent.

$5,000.00
Small Grants: Up To $2,000.00

Organisation

Program Description

Amount

3bridges Community

The HSC Rescue Study Breaks 2021.

$1,972.05

Bardwell Valley Golf Club

Installation of Nesting Boxes for Native Birds.

$2,000.00

Botany Family and Children's Centre

Purchase video conferencing solution to facilitate client case conferences and use of facility.

$1,899.00

CASS Care Ltd

Provide information sessions for seniors to access services online through smart use of technology Zoom.

$2,000.00

St Matts Community Garden

For stingless native beehive & working bees in community garden.

$1,526.00

St Vincent de Paul Society NSW

Purchase essential items such as food and toiletries for the homeless.

$2,000.00

Southern Sydney Women's Domestic Violence Court Advocacy Service

Provide women experiencing domestic and family violence, support, referrals, information and resources in community languages.

$2,000.00

The Benevolent Society

Promote physical activity, cognitive stimulation and emotional well-being of older participants through improved technology.

$2,000.00

The Trustee For Raise Foundation

Provide support in early intervention youth mentoring programs for at-risk students at JJ Cahill Memorial School.

$2,000.00

Rock & Wool

Wool for community knitting group making blankets for charity.

$2,000.00

Bardwell Park Infants School P&C Committee

Permanent installation of water bottle refill station.

 $1,365.00

James Cook Boys High School Parents & Citizens Association

Water bottle refill and recycling project.

$2,000.00

St George Historical Society

New visitor chairs. Funds reduced to comply with Small Grant conditions.

$2,000.00

Pagewood Botany Football Club

Support Windgap Warriors for equipment and jerseys.  Funds reduced to comply with Small Grant conditions.

$2,000.00

Arncliffe Aroura Football Club

Purchase computer equipment to facilitate access to online health and wellbeing courses/programs.

$1,886.85

Kogarah Waratah Football Club

For equipment to increase small sided games during winter months.

$2,000.00

Police Citizens Youth Clubs NSW Ltd (PCYC Eastern Suburbs)

New equipment for PCYC boxing and Fit for Life.

$2,000.00

Rockdale City Raiders Football Club

Upgrade playing stripes and training equipment.

$2,000.00

Rockdale Ilinden Soccer Club Inc

For training equipment to promote health, well-being & lifelong learning.

$2,000.00

St George District Athletic Club

Purchase a computer to connect to a new computerised timing system.

$ 1,983.95
Published on:
Thu, 10/06/2021 - 10:42