Councillor Christina Curry is the new Mayor of Bayside Council and Councillor Scott Morrissey will serve as Deputy Mayor following an Extraordinary Council Meeting on Wednesday 5 January 2022.
Image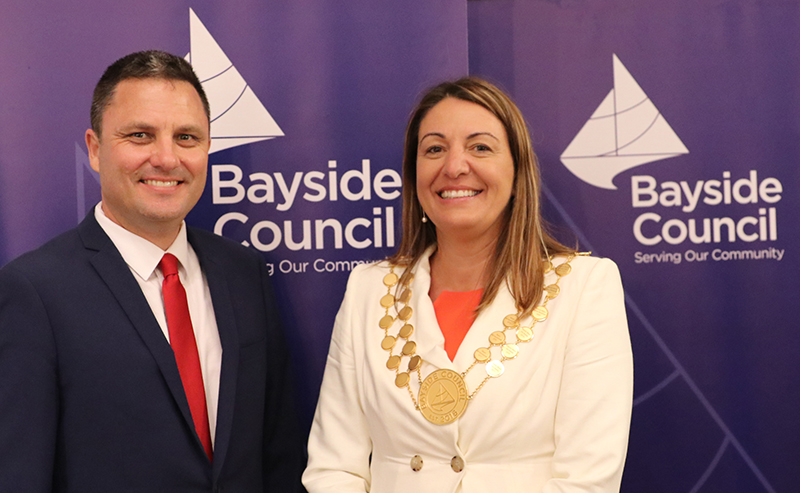 Crs Curry and Morrissey will hold office until September 2023. Both are experienced councillors, with a wealth of Local Government knowledge having served on the inaugural Bayside Council.
Cr Curry is Bayside's first female Mayor.
She was also a councillor on the former City of Botany Bay and is currently the NSW Local Government delegate to the national Women's Safety Taskforce and the Chair of the Bayside Women's Shelter.
"I thank you all for your support. I look forward to working with you and delivering on the expectations of our entire Bayside Community," Cr Curry said.
"Together we have an opportunity to deliver outstanding services, effective community engagement and strong financial governance."
Cr Curry also thanked the previous Mayors Bill Saravinovski and Joe Awada for their service and dedication to the Bayside community.
Bayside Council welcomed six new Councillors and nine returning Councillors following the Local Government elections on Saturday 4 December 2021.
The six new Councillors are Heidi Douglas, Ann Fardell, Mark Hanna, Jo Jansyn, Jennifer Muscat, and Greta Werner.
Mark Hanna served on the previous Rockdale City Council.
Bayside Council will also have a record number of female Councillors with seven women taking their place on the 15-member Council.
Bayside will hold a mid-term Mayoral election in September 2023 and the next local government election is scheduled for September 2024.
More Information
Published on:
Fri, 07/01/2022 - 10:25