Bayside apprentice Thomas Furner was announced as My Gateway's 2nd Year Apprentice of the Year at an awards ceremony on Friday 19 November.
Thomas Furner has been at Bayside Council for three years while studying horticulture at TAFE where is completing his Parks and Gardens Certificate 3.
Thomas works in Council's Parks Operations Department as part of a team that maintains parks and outdoor spaces.
"I get to do all types of project work. It's a secure job and I am earning money while learning," said Thomas.
Council has expanded its successful apprenticeship program in partnership with My Gateway that provides opportunities for local young people to kick-start their careers with on-the-job training while studying for a recognised qualification.
There are currently six roles on offer: Apprentice Parks Operations, Apprentice Greenkeeper, Apprentice Welder, Trainee Early Childhood Educator – Certificate III, Trainee Civil Construction, Trainee Business Administration (HR, Finance or IT).
Successfully completing a Trainee or Apprenticeship with Council improves employment opportunities, as many employers are looking for candidates who have qualifications and hands-on experience in a real working environment.
Under the program trainees will also have access to mentors, coaches, and other training opportunities.
More Information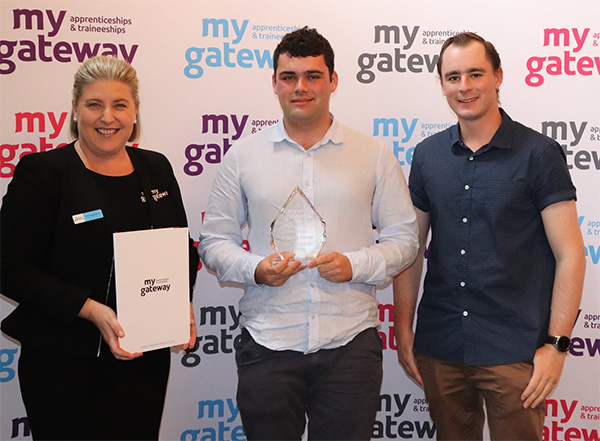 Bayside apprentice Thomas Furner was announced as My Gateway's 2nd Year Apprentice of the Year at an awards ceremony on Friday 19 November.
Photo supplied by My Gateway
Published on:
Tue, 23/11/2021 - 10:19