Bayside Mayor Joe Awada attended the official opening of the 3Bridges Kyeemagh Community Hub in the former Kyeemagh RSL earlier today.
Bayside Deputy Mayor James Macdonald, Councillor Liz Barlow and Steve Kamper MP Member for Rockdale also attended the official opening of the 3Bridges Kyeemagh Community Hub.
"I would like to say how pleased I am that Council has been able to repurpose this building — the former Kyeemagh RSL — in a such way that it can now be used by the broader community." Mayor Joe Awada said.
"I am confident that the programs offered by 3 Bridges in this new multi-purpose community centre provide a huge benefit for Bayside residents. I wish 3 Bridges every success with this project and for all their work in the Bayside community.
Council fixed the roof and undertook some structural repairs to the building. Other works to be completed in the coming months include upgrading the electrical system with new switchboards.
Council has also helped move war memorial statue outside the former Kyeemagh RSL to a more appropriate location.
As well as raising awareness of dementia and providing a social hub for those living with dementia the centre will also offer:
Vocational training programs
A Fix it Sisters shed
Play groups for vulnerable mothers and their babies
A Social hub for people living with dementia and socially isolated people
Day care programs for the aged and disabled
Early intervention youth programs, including mentoring school aged children
3 Bridges also successfully applied for a $5000 Community Grant from Bayside Council that will go towards the dementia program that will be run from this Community Hub.
The Kyeemagh Community Hub is ideally located between suburbs of Rockdale, Brighton, Arncliffe, Mascot and Botany and easily accessible.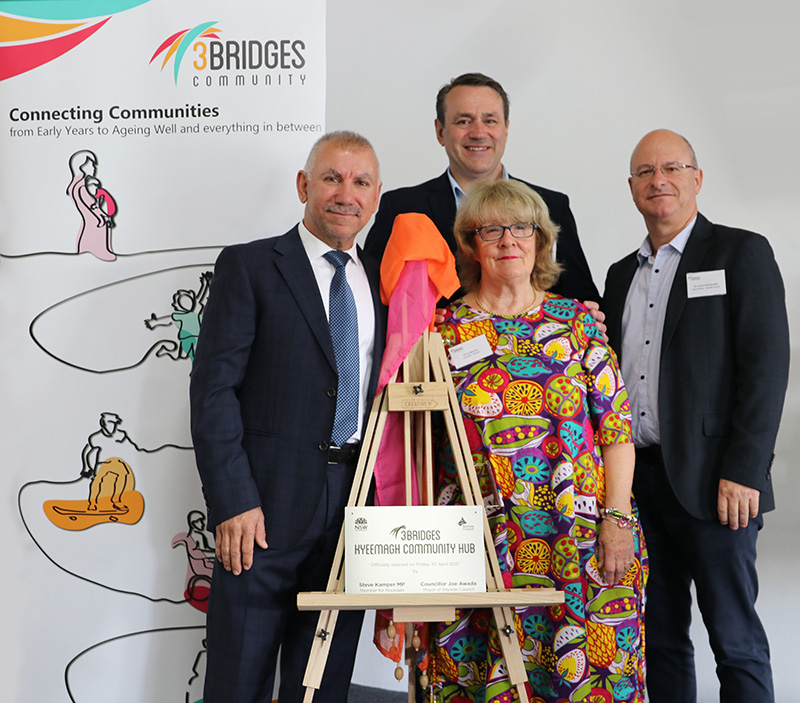 Bayside Mayor Joe Awada, Steve Kamper MP Member for Rockdale, Councillor Liz Barlow and Deputy Mayor James Macdonald
Published on:
Fri, 30/04/2021 - 14:41