Explore
Bayside is looking to increase our community's use of walking and cycling for our everyday local transport needs. Whether it's giving our children confidence to walk or ride to school, making cycling part of our regular commute, or it's exploring Bayside's abundance of beaches, parklands and even local coffee shops. The benefits of active transport to our health, our time, our wallets and the environment are clear.
 
Walking and cycling is not only the most efficient form of transport for short distances, it is also the most sustainable. By incorporating these active transport choices into our daily routine, we have the potential deliver big improvements to our personal health alongside and sustainable carbon-neutral outcomes for our community. In working to deliver more active transport options to our community, Bayside aim to make our local area more desirable places for local families to live, work and go to school.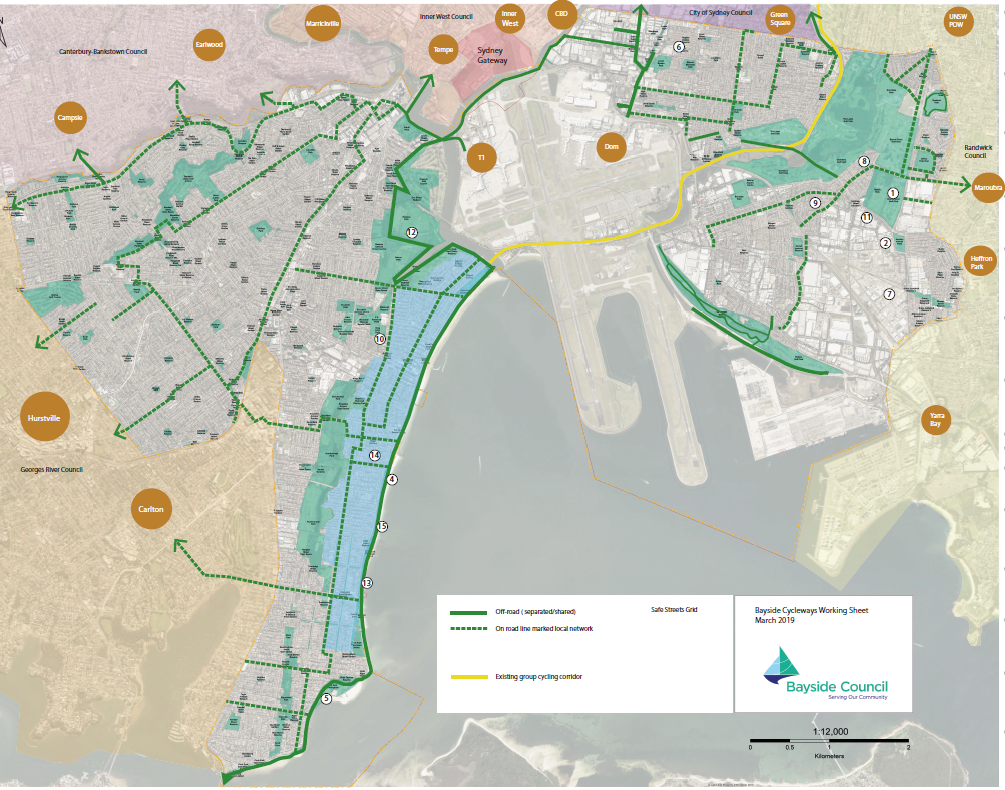 Bayside Bike Plan 2020
As Bayside grows, we are looking at ways to provide our community new, safe bicycle infrastructure that takes us where we want to go.
 
In 2020 we are developing a Bayside Bike Plan which will set out a plan for Council to deliver the future Bayside Strategic Bicycle Network. Our community has been integral to the development of this plan by working alongside planners, suggesting routes and providing feedback of what they would like to see on our roads and our paths to support them cycling. Over 300 comments have been received from the community, including advice from over 60 children on their favourite places to ride.
 
Bayside Council look forward to the development of a connected bicycle network that will ensure cycling around our local area and into Sydney's CBD is safer and more enjoyable than ever before. 
 
The Bayside Bike Plan and the Strategic Bicycle Network Map is expected to be complete in late 2020.
Image