How to Apply
Applying for a role in local government can be a longer process than in the private sector.  Your application will typically need to have more detail, so we can fairly assess you against the other applicants.  This page will assist in preparing your application.  If you're ready to go please head to our Working for Bayside page to see our current vacancies.
The Competency Framework
Adapted from the NSW Public Sector Capability Framework, Bayside Council has developed The Competency Framework. Essentially, this is a tool that helps create a common approach to developing position descriptions, recruitment outlines, performance management criteria, career development details and workforce planning.
The Competency Framework describes the competencies and associated behaviours for 16 competencies across four core groups: Personal Attributes, Relationships, Results and Business Enablers.
The competency groups work together to provide an understanding of the knowledge, skills and abilities required by individuals for jobs.
Our Recruitment Process
Looking to work for a modern, vibrant council that cares? Here's the process: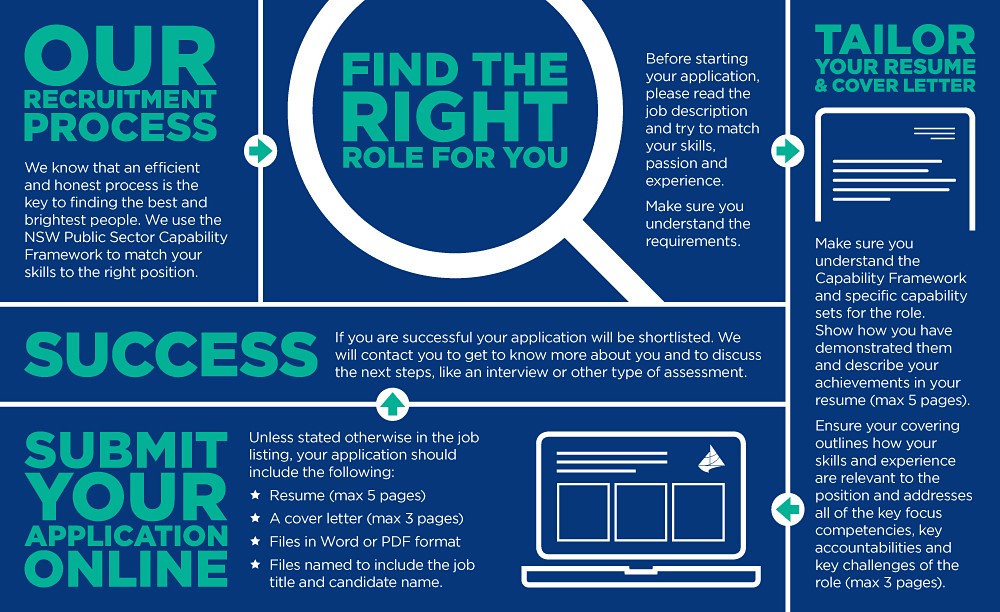 Find the right role for you
Before starting your application, or even typing a letter on your keyboard, take a moment and read the job description carefully.
Is this the right role for the skills you have?
Are you passionate about this role?
Have you got any experience in this area?
Make sure you understand the requirements and that the role is a good match.
Tailor your resume and cover letter
The importance of this step in the process can't be understated. Make sure you understand the Capability Framework and specific capability sets for the role. Show how you have demonstrated them and describe your achievements in your resume.
When it comes to your cover letter make sure you emphasise how your skills and experience are relevant to the position and addresses all of the key focus competencies, key accountabilities and key challenges of the role.
Here's a tip: Throughout your application process you might want to use The STAR Technique.
STAR is an acronym of Situation, Task, Activity and Result and should be the basis for all aspects of the job application process; allowing you to provide detailed examples of how your skills and experience match the requirements of the role being applied for. 
For more info on STAR see below.
Submit your application
Once you have completed your resume and cover letter, you are ready to submit your application online. Before you do, ensure that all files include the job title and your name, and that all files are in Microsoft Word or Adobe PDF format.
Get notified of result
If you're successful at this first stage, your application will be shortlisted. We will then contact you to get to know more about you and to discuss the next steps, which may include an interview or other type of assessment.
Need a little help with your application?