The Bayside Citizen of the Year Award honours those who have made an extraordinary contribution to our community.
The Award recognises the exceptional contributions made by an individual to the local community in the areas of community services, charitable work, education/school development, environment, arts and culture, sport, or humanitarian initiatives that enhance the quality of life for residents. 
Award Categories
Citizen of the Year
Young Citizen of the Year (25 years or under)
Sportsperson of the Year
2019 Winners
Marion Cartwright: Bayside Citizen on the Year
Marion Cartwright was named as the 2019 Bayside Citizen of the Year at Bayside Council's Australia Day ceremony in Depena Reserve.
Mayor Bill Saravinovski presented Marion Cartwright with the award in recognition of her dedicated community work. For over 15 years Marion Cartwright has nurtured a local community informally by creating a garden which provides a space for the Department of Housing estate residents to congregate.
Cooper Kilpatrick: Bayside Sportsperson of the Year
Cooper Kilpatrick was named Bayside Sportsperson of the Year 2019. Cooper Kilpatrick has played AFL for Ramsgate Rams Junior AFL from age 3 and now plays at UNSW Senior AFL Club. Cooper is currently the games record holder at Ramsgate JAFC.
Winola Su: Bayside Young Citizen of the Year
Winola Su is the 2019 Bayside Young Citizen of the Year. Since 2016 Winola Su has been involved in various community development projects for 2Connect Youth & Community Service (formerly known as St George Youth Service.)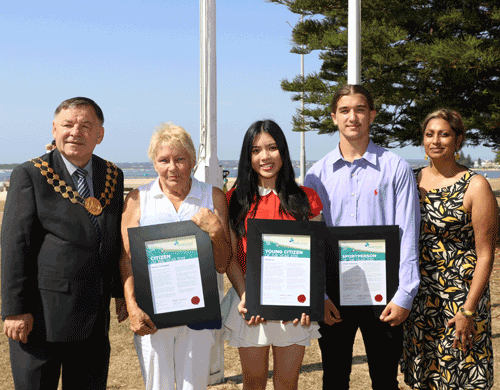 Mayor Bill Saravinovski, Marion Cartwright, Cooper Kilpatrick, Winola Su and Australia Day Ambassador Indira Naidoo