Family Day Care
The Botany Family Day Care service provides quality education and care programs for children between 6 weeks and 12 years of age in a regulated, safe and caring family home environment.
Botany Family Daycare
Botany Family Day Care complies with the National Quality Framework for Early Education and Care and is regulated by the NSW Department of Education and Communities.
Our qualified and carefully selected Family Day Care Educators work from their own homes, providing an outstanding level of personalised care and education to up to four children under school age. Our Educators are mentored and monitored under Botany Family Day Care's Coordination Unit.
The service is rated as exceeding the National Quality Standard.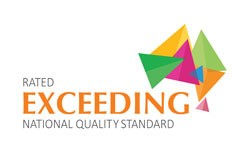 Botany Family Day Care provides flexible quality care and education. Depending on your family and child's needs, a range of care options can be provided. One of the key benefits of family day care includes the variety of care which may be provided, these can include:
Part-time care
Before & after school care
Vacation care
Long day care
Our family day care Educators provide quality education  and programs, which include:
Meaningful 1: 4 child to Educator ratio (which promotes strong bonds between a child, Educator and family)
Flexible child care arrangements that meet the family needs
Learning environments that support children's overall development including programmed indoor and outdoor experiences (all Educators have registered outdoor spaces)
Individualised Educational Programs based on children's interest incorporating the National Curriculum Framework
All Educators are skilled and experienced early childhood professional ; they hold formal qualifications ranging from Certificate III to University Degrees
All Educators hold a current First Aid, Asthma and Anaphylaxis certificates
Mandatory Working with Children Checks for Educators and household members and public liability insurance to meet safety and regulatory requirements
Educators are well resourced with access to an extensive Resource Library to provide children with a variety of simulating play and learning experience
Botany Family Day Care Educators are supported by a team of early childhood professionals (Coordination Unit Staff) who ensure the highest standards of family day care for children.
The Coordination Unit refers families to interview suitable Educators who reside in Bayside Council and surrounding areas.
Coordination Unit Staff will:
discuss your childcare needs
provide information about Family Day Care
help you to find the right Educator and environment for your child
monitor your child's progress through regular location visits
Council facilitates regular play sessions for Educators to attend with the children in their care. Children can socialise and interact with a larger group of children while participating in stimulating play activities and educational experiences.
Contact Information
Botany Family Day Care
149 Coward Street, Mascot
Telephone: 9366 3576 
Email: familydaycare@bayside.nsw.gov.au
Families interested in obtaining more information on the waiting list, please contact the Service.  
Botany Family Day Care is an Approved Service and Families may be eligible for Government Assistance (Child Care Subsidy) through Centrelink. For further information please contact the Service directly or the Department of Human Services.
 
Meet our Educators
Our Educators come from a wide range of backgrounds and cultures to meet the needs of the families in our local community. They have formal qualifications in Early Childhood, and many valuable years of experience working with young children. 
There is a stringent screening and induction process to ensure that Educators have the skills and knowledge to provide a quality service. At a minimum, Educators must have a Certificate III in Early Childhood Education and Care, must have passed the relevant police and Working With Children Checks, be fully insured and hold approved  First Aid qualifications. 
Our Educators provide education and care for up to 7 children (4 under school age and 3 attending school, including their own children) - providing children with the opportunity to learn and develop their social skills in a meaningful and personalised group environment. Educator's homes not only comply with the safety requirements as stipulated in the Education and Care National Regulations but adhere the additional requirements of our Council.
Become a Family Day Care Educator
Want a rewarding home-based career?
Family Day Care Educators are self-employed Educators providing home-based quality education and care to a small group of children. 
This is a great opportunity to apply your early childhood knowledge and start your own small business working from home with the added support of experienced Family Day Care specialists.
Our Educators operate highly successful small businesses, driven by the strong demand for childcare places and especially among birth to two year olds. 
Family Day Care Educators also enjoy the flexibility of choosing their own work hours and days.
Our Educators and the children in their care attend Service Play sessions which are facilitated by Botany Family Day Care, Coordination Unit Staff.
Currently Botany Family Day Care Educators reside within the Bayside Local Government Area; however we also encourage Educators in surrounding suburbs to apply. If you would like more information please contact us:
Botany Family Day Care
149 Coward Street, Mascot
Telephone: 9366 3576 
Email: familydaycare@bayside.nsw.gov.au