Bardwell Creek and Wolli Creek Catchment
The Bardwell Creek overland flood study area includes the suburbs of Bexley North, Bardwell Park, Bardwell Valley and Turrella, as well as parts of Kingsgrove, Bexley, Arncliffe and Wolli Creek.
Bardwell Creek and Wolli Creek Catchment
Bardwell Creek is a tributary of Wolli Creek. Wolli Creek is in turn a tributary of the Cooks River with its confluence at the Tempe railway bridge crossing the Cooks River.
The study area contains the portion of Bardwell Creek and Wolli Creek within Bayside Council LGA and covers an area of approximately 713 hectares (7.1 km2). The upper catchment includes parts of Hurstville, Penshurst, Beverly Hills and Narwee within the Georges River LGA. The northern side of Wolli Creek includes parts of the suburbs of Roselands and Earlwood within the Canterbury Bankstown LGA.
Bayside Council has commissioned WMAWater to undertake a review of the Bardwell Creek Flood Study in 2018. The review is supported by the NSW and Commonwealth Government with funding under the Natural Disaster Resilience Programme.
Th flood study was adopted by Council in April 2019.
Bardwell Creek Flood Study Volume 1
Bardwell Creek Flood Study Volume 2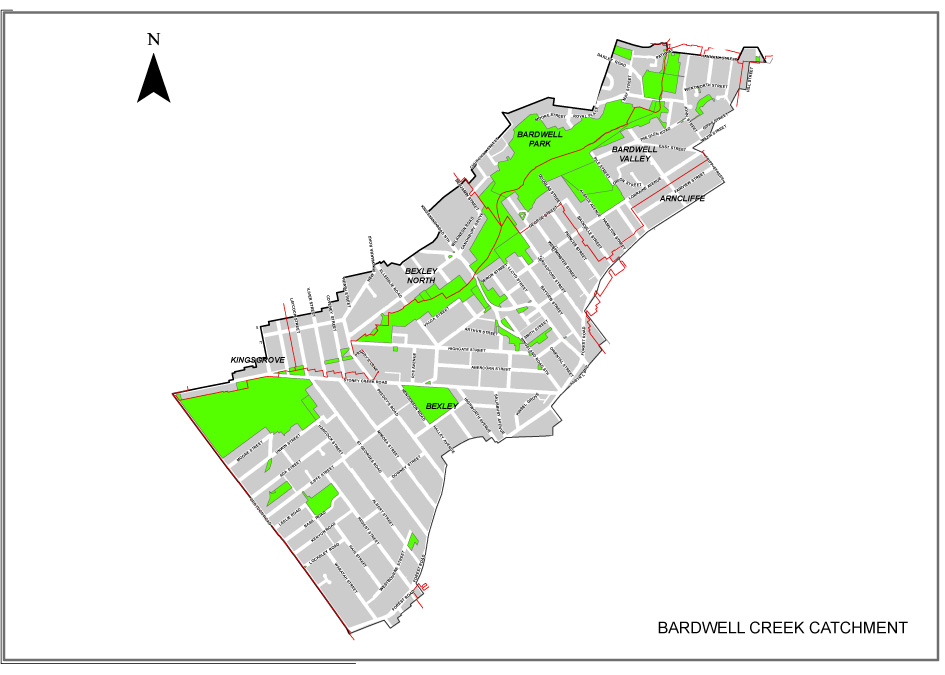 Image